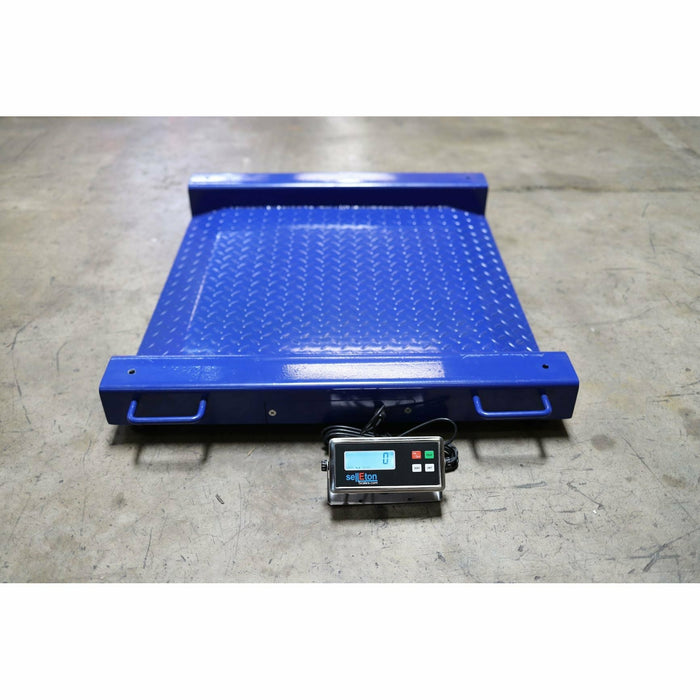 Liberty LS-917 | 38" x 33" | Portable Drum Scale
Original price
$799.00
-
Original price
$799.00
Introducing the Liberty LS-917 Portable Drum Scale, the heavy-duty industrial solution for accurately weighing drums and individuals in wheelchairs.
This exceptional scale has various features, making it a versatile and reliable choice for any industrial setting.

Key Features:
The

 

LS-7515-C indicator

 

offers user-friendly functionality and versatility. Switchable between pounds and kilograms, it allows for easy measurement conversions based on your preference or requirements. Power options include AC/DC or AA batteries, giving you flexibility and convenience in powering the scale.
With live side rails and two ramps on both sides, the Liberty LS-917 ensures safe and secure weighing.
The safety bars on the sides provide additional stability, giving you peace of mind during operation.
The sideload design allows easy loading and unloading, saving time and effort.
The scale is built to withstand tough environments, thanks to its rugged diamond deck tread plate.
Its heavy-duty construction is complemented by four adjustable swivel steel feet, ensuring stability on any surface.
The scale has side handles and wheels for added convenience, making it effortlessly portable.
Accuracy is paramount, and the Liberty LS-917 delivers with its four alloy steel shear beam load cells. These load cells provide precise measurements, ensuring reliable weight readings every time.
The ABS NEMA 4X junction box with signal trim summing board enhances signal transmission, minimizing potential interference.
Measuring 38" (L) x 33" (W) x 4" (H), this drum scale offers ample space for weighing drums or individuals in wheelchairs.
The inside surface measures 29 7/8" x 21", while the inside ramps extend 6" on each side for easy access.
With its package configured and calibrated with 5000 divisions, accuracy is guaranteed.
As a testament to its quality, the Liberty LS-917 comes with a 5-year limited warranty, giving you peace of mind with your purchase.
Whether you need to weigh drums or individuals in a wheelchair, trust the Liberty LS-917 Portable Drum Scale for accurate and reliable results every time.
Shipping Policy:

We offer free shipping for business addresses within the contiguous 48 states. For residential delivery, a small additional fee of $100 applies. Lift gate services are also available for easy unloading, with an optional $50 charge if no forklift is available. People from Hawaii & Alaska can Contact us for personalized Shipping Quotes. Your satisfaction is our Top Priority! Kindly provide your contact number and company name for business purchases.

Experience the power of precision with Liberty Scales - your trusted partner in industrial weighing solutions.