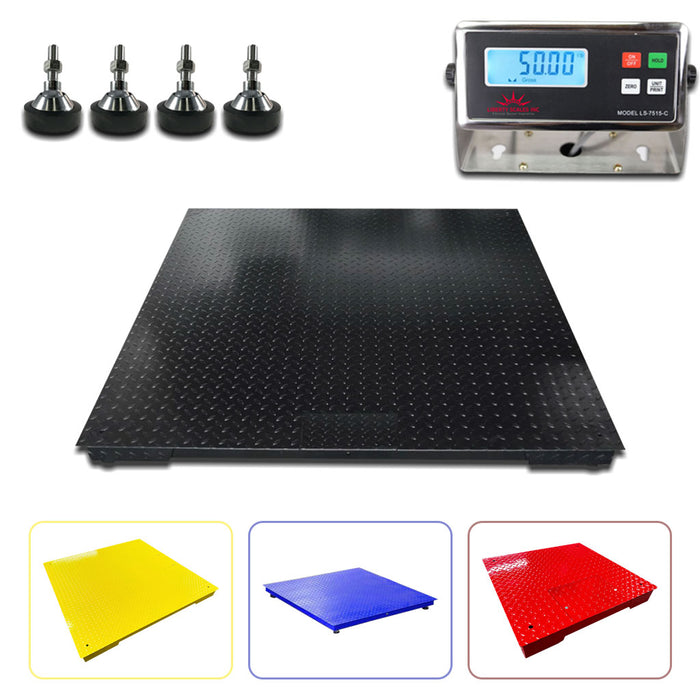 Liberty LS-700-4X4 Heavy Duty General Purpose Floor Scale | 48" x 48" | Capacity of 1,000 lbs, 2,500 lbs, 5,000 lbs, 10,000 lbs & 20,000lbs
Original price
$1,199.00
-
Original price
$2,249.00
Introducing the Liberty LS-700-4X4 Heavy Duty General Purpose Floor Scale - Your Ultimate Partner in Precision Weighing!
Why Choose Liberty LS-700-4X4?
✔ Impressive Capacity & Precision:
Take charge with our remarkable capacity options: 1,000 lbs, 2,500 lbs, 5,000 lbs, a robust 10,000 lbs, and an incredible 20,000 lbs, all offering unbeatable accuracy.
Your trusted source for precise weighing every time!
✔ Efficiency at its Best:
Redefine efficiency in your industry with our compact and versatile 4' x 4' (48" x 48") industrial floor scales.
Designed to excel in various applications, these scales effortlessly streamline processes, from shipping to custom operations, making them the ultimate multi-purpose tool for your business.
✔ Fully Customizable:
Our 4' x 4' industrial floor scales are not just scales but are entirely customizable to match your unique operational requirements.
Whether you operate a bustling manufacturing plant, a dynamic warehouse, or a thriving shipping company, these scales deliver precise measurements to enhance productivity and reduce errors.
✔ Built to Last:
Our commitment to quality and innovation shines through these 48" x 48" industrial scales.
Compact enough to fit seamlessly into tight spaces yet built robust enough to handle heavy-duty tasks, these scales are meticulously crafted with your business in mind.
 Scale Base Details:
Size: 48" x 48"
Equipped with high-precision load cells for even weight distribution.
Sturdy ball-joint feet provide stability on any surface.
Crafted from robust carbon steel.
Offers an impressive 200% overload protection for peace of mind.
Welded steel with a durable tread plate construction guarantees industrial-grade quality.
Factory-calibrated for immediate, reliable precision.
Backed by a robust 5-year warranty, ensuring dependable long-term performance.
Indicator:
LS-7515-C Stainless Steel
 Shipping Made Easy:
FREE SHIPPING: Enjoy complimentary shipping to business addresses within the contiguous 48 states of the US.
Residential Delivery: Opt for the convenience of home-based operations with an additional $100 shipping fee.
Lift Gate Services: No forklift? No problem! Choose the lift gate service for just $50.
Contact us today to revolutionize your weighing operations!