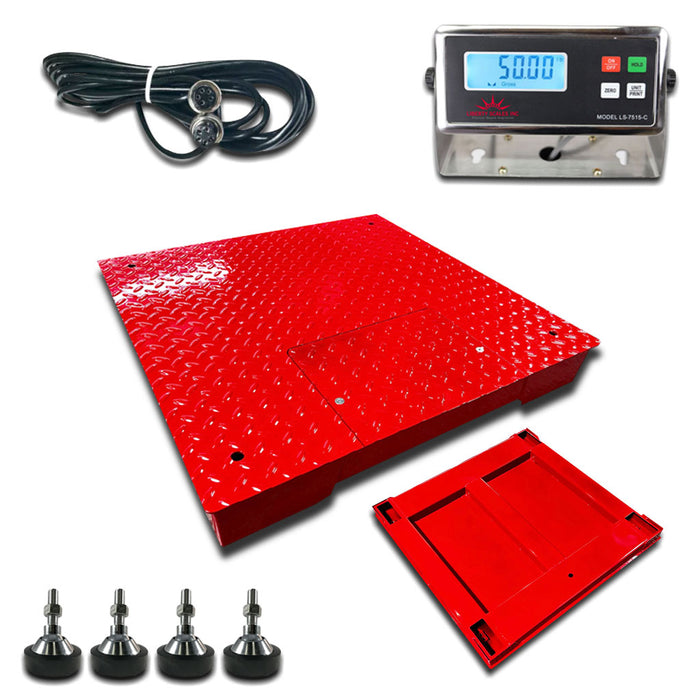 Liberty LS-700-2x2 Heavy Duty General Purpose Floor Scale | 24" x 24" | Capacity of 1000 lbs, 2500 lbs & 5000 lbs
Original price
$599.00
-
Original price
$599.00
Unleash Efficiency with the Liberty LS-700-2x2 Heavy Duty General Purpose Floor Scale!
Key Features:
✔ Superior Accuracy & Capacity:
Choose from three capacity options: 1000 lbs, 2500 lbs, or 5000 lbs, with .2 lb, .5 lb, and 1 lb accuracy relatively.
Ensure precise measurements, no matter the load!
✔ Vibrant Color Choices:
Express your style with multiple color options: Black, Blue, Yellow, or Red.
Match your workspace or make a bold statement!
✔ Efficiency at Its Best:
Streamline your industry processes with our compact and versatile 2' x 2' (24" x 24") industrial floor scales.
Designed for various applications, these scales are the ultimate multi-purpose tools for your business.
Diamond-plated tops ensure durability and an aesthetically pleasing finish, combining functionality and design seamlessly.
✔ Fully Customizable:
Tailor these scales to your specific operational needs, whether you run a manufacturing plant, a warehouse, or a shipping company.
Witness enhanced productivity and reduced errors with precise measurements every single time.
✔ Sturdy & Compact Design:
These 24" x 24" industrial scales are a testament to our commitment to quality and innovation.
Compact enough to fit into tight spaces yet sturdy enough to handle heavy-duty tasks, these scales are designed with your business in mind.
Indicator:
Shipping Options:
FREE SHIPPING: Enjoy complimentary shipping to business addresses within the contiguous 48 states of the US.
Residential Delivery: For home-based convenience, opt for residential delivery with an additional $100 shipping fee.
Lift Gate Services: Need a forklift? No problem! Access the lift gate service for just $50.
Hawaii & Alaska: Customers in these regions, please reach out for a customized shipping quote.
Invest in our industrial floor scales today and experience precision, reliability, and customizability. These aren't just scales; they're your partners in boosting productivity and profitability.
Click "Add to Cart" now and elevate your industry with Liberty Scales!