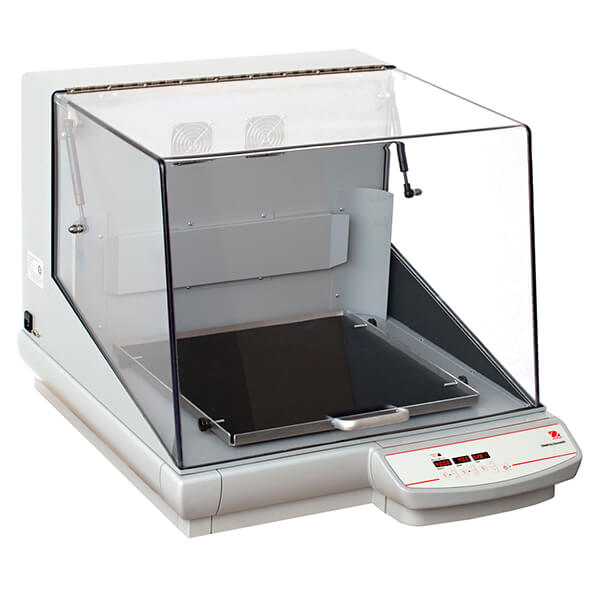 Ohaus Incubating Heavy Duty Orbital Shakers ISHD23HDG
Original price
$8,010.00
-
Original price
$8,010.00
Introducing the Ohaus Incubating Heavy Duty Orbital Shaker ISHD23HDG, the ideal companion for your laboratory needs.
With its reliable performance and versatile features, this shaker can take on any task.

Equipped with the exclusive Accu-Drive shaking system, this digital shaker offers exceptional speed control, accuracy, and durability. Say goodbye to fluctuations and inconsistencies, as the maintenance-free motor ensures long-term use without hassle.

When it comes to sample protection, this shaker has got you covered. The optimal speed ramping feature gradually increases the speed to setpoint, preventing splashing mishaps. Additionally, the load sensor detects unbalanced conditions and automatically reduces the speed to a safe level, guaranteeing the safety of your samples.

With a wide range of applications, including cell cultures, solubility studies, extractions, bacteria & yeast cultures and suspensions, staining/destaining, immunoassays, protein studies, and blotting techniques, this shaker is genuinely versatile.

Navigate effortlessly with the independent LED displays for speed and time settings. The operator can conveniently view both settings simultaneously for precise control. The analog models have control knobs featuring dial markings for easy operation.

Constructed with cold rolled steel (CRS), this shaker is built to last. It has a built-in tray and non-slip rubber mat to ensure stability during operation. Additionally, it features a detachable 3-wire cord and plugs for added convenience.

For those seeking advanced functionality, the digital models offer an RS232 interface for two-way communication. This allows for data logging and unit control, making your lab work even more seamless.

Customize your shaker with over 70 accessory options to suit your specific needs. Whether you require liberty or portable scales, this Ohaus Incubating Heavy Duty Orbital Shaker ISHD23HDG has it all.

Choose reliability, precision, and versatility for your laboratory.
Invest in the Ohaus Incubating Heavy Duty Orbital Shaker ISHD23HDG and experience unmatched performance.