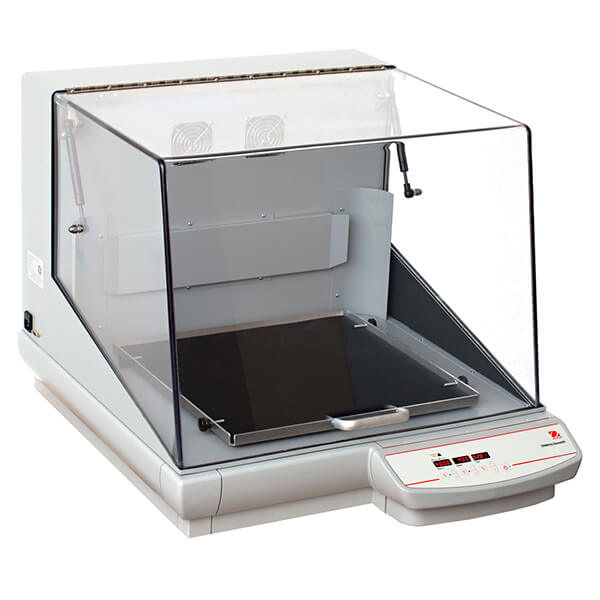 Ohaus Incubating Heavy Duty Orbital Shakers ISHD16HDG
Original price
$4,320.00
-
Original price
$4,320.00
Introducing the Ohaus Incubating Heavy Duty Orbital Shaker ISHD16HDG, a reliable and versatile addition to any lab.
With its robust construction and advanced features, this shaker is ready to meet all your shaking needs.

Designed with convenience, the ISHD16HDG comes complete with a tray and rubber mat, ensuring that you have everything you need right out of the box. And with over 70 accessory options available, you can customize this shaker to suit your specific requirements.

One of the standout features of the ISHD16HDG is its exclusive Accu-Drive shaking system. This innovative technology ensures exceptional speed control, accuracy, and durability, making it perfect for various applications, including cell cultures, solubility studies, extractions, and more.

When it comes to sample protection, this shaker has you covered. The optimal speed ramping feature gradually increases the speed to the desired setpoint, preventing splashing or mishaps. Plus, the load sensor detects unbalanced conditions and automatically reduces the speed to ensure safe operation.

Operating the ISHD16HDG is a breeze thanks to its user-friendly design. The independent LED displays for speed and time allow you to view both settings simultaneously. At the same time, the control knobs with dial markings (analogue models) make adjusting the parameters quick and easy.

Constructed from cold rolled steel (CRS), this shaker is built to last. Its sturdy construction ensures stability and durability even during heavy use. Additionally, the ISHD16HDG comes with a built-in tray and non-slip rubber mat for added convenience.

Whether you're conducting protein studies, immunoassays, or blotting techniques, the Ohaus Incubating Heavy Duty Orbital Shaker ISHD16HDG is the perfect companion for your lab. Trust in its exceptional performance and enjoy peace of mind knowing that your samples are safe.
Choose quality, choose reliability – choose the ISHD16HDG.