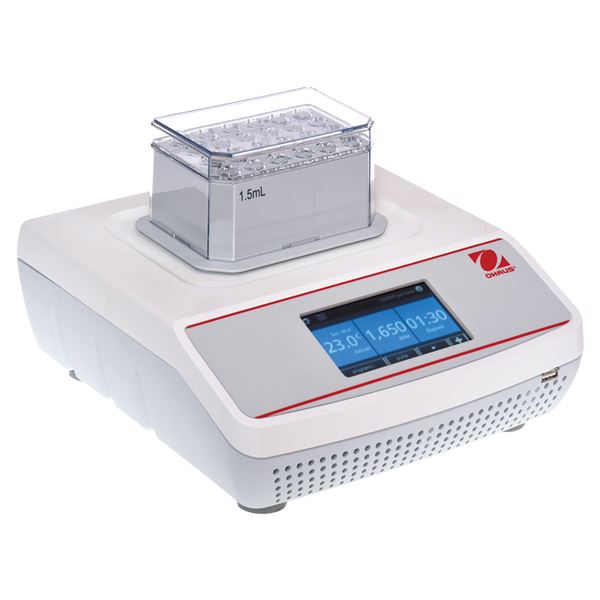 Ohaus Incubating Cooling Thermal Shakers ISTHBLCTSN -120V
Original price
$3,550.00
-
Original price
$3,550.00
Introducing the Ohaus Incubating Cooling Thermal Shaker ISTHBLCTSN -120V, the pinnacle of temperature control and precision.
This cutting-edge device is designed to meet the highest performance standards, making it the ideal choice for DNA, RNA, cell cultures, hybridizations, and protein studies.

With its best-in-class temperature performance, this thermal shaker guarantees accurate and fast temperature control that you can rely on. Enhanced electronics and software work seamlessly to ensure precise temperature regulation, even at 17°C below ambient. Say goodbye to fluctuating temperatures and hello to consistent and reliable results.

Operating this thermal shaker is a breeze, thanks to the intuitive touchscreen interface. With just a few taps on the 4.3-inch color LCD, you can easily program and navigate the unit's functions. The comprehensive help screens, available in six languages, provide step-by-step guidance for effortless operation.

Creating programs for repeat applications is now effortless with the Ohaus Incubating Cooling Thermal Shaker. The device offers storage for up to five separate, 5-step programs, allowing you to automate your experiments and save valuable time. Need to analyze your data? Connect a flash drive to the convenient USB port and transfer test data for easy logging and program storage.

Constructed with convenience, this thermal shaker features a Valox cool touch housing that ensures safe handling even during extended use. The removable plastic rack and cover make cleaning a breeze, while the included screwdriver allows for easy block removal when needed.

Equipped with an array of design features, such as a hot top indicator, audible alarm, maximum temperature limiting function, temperature priority function, pulse/quick mix mode, temperature calibration mode, and temperature ramp rate function, the Ohaus Incubating Cooling Thermal Shaker ISTHBLCTSN -120V is truly a versatile and indispensable tool for any laboratory setting.

Experience unmatched temperature control, precision, and user-friendly operation with the Ohaus Incubating Cooling Thermal Shaker ISTHBLCTSN -120V. Invest in this top-of-the-line device and elevate your scientific research to new heights.
Order yours today and witness the power of advanced technology in your hands.