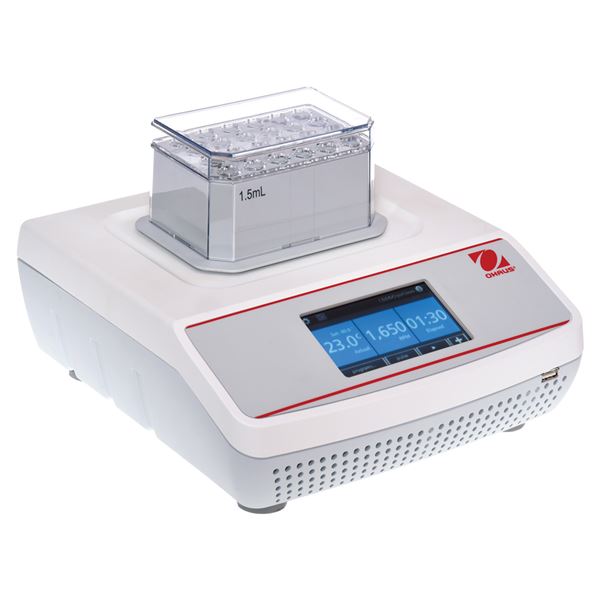 Ohaus Incubating Cooling Thermal Shakers ISTHBLHTSN -120V
Original price
$2,750.00
-
Original price
$2,750.00
Introducing the Ohaus Incubating Cooling Thermal Shaker ISTHBLHTSN -120V, the perfect companion for your laboratory needs.
With its best-in-class temperature performance, this thermal shaker guarantees fast and accurate temperature control that you can rely on. Equipped with enhanced electronics and software, it ensures precise temperature regulation, making it an essential tool for DNA, RNA, cell cultures, hybridizations, and protein studies.

Navigating through its functions is a breeze thanks to the intuitive touchscreen interface. With just a few taps, you can effortlessly set up and program the thermal shaker according to your specific requirements. Plus, the comprehensive help screens, available in six languages, provide step-by-step guidance throughout the unit's operation.

Creating programs for repeat applications has always been challenging. The Ohaus Incubating Cooling Thermal Shaker ISTHBLHTSN allows you to store up to five separate, 5-step programs. With the USB port, transferring test data to a flash drive for data logging and program storage is a seamless process.

Featuring a 4.3-inch color touchscreen LCD, this thermal shaker offers clear visibility and programming flexibility. The display can be easily programmed in six languages, ensuring ease of use for users from different backgrounds.

Built for durability and convenience, the Ohaus Incubating Cooling Thermal Shaker ISTHBLHTSN boasts a Valox cool-touch housing that protects against heat transfer. It comes with a removable plastic rack and a screwdriver for block removal, providing added convenience during operation.

This thermal shaker also has various design features to optimize your workflow. The hot top indicator alerts you when the unit is too hot to touch, while the audible alarm ensures you don't miss any crucial steps. The maximum temperature limiting function prevents overheating and safeguards your samples. Additionally, the pulse/quick mix mode and temperature ramp rate function offer further customization options to meet your unique experimental needs.

Choose the Ohaus Incubating Cooling Thermal Shaker ISTHBLHTSN -120V and experience unmatched temperature control, user-friendly operation, and exceptional performance in your laboratory.