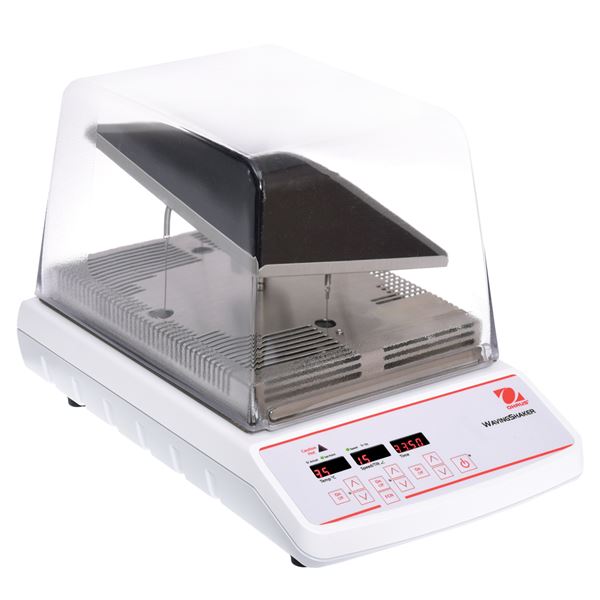 Ohaus Incubating Rocking & Waving Shakers ISWV02HDG-120V
Original price
$3,800.00
-
Original price
$3,800.00
Introducing the Ohaus Incubating Rocking & Waving Shaker ISWV02HDG-120V, a cutting-edge instrument designed to revolutionize your laboratory processes.
With its advanced electronic control system, this shaker allows for effortless adjustments of tilt angle, speed, and temperature while the unit is still running, ensuring optimal mixing at all times.

Achieve unparalleled accuracy with the ability to adjust the tilt angle in 1° increments precisely, vary the speed by 1 rpm, and set the temperature in 1°C increments using the intuitive touchpad controls. Say goodbye to guesswork and hello to reproducible results that you can trust.

Experience a new level of innovation with the speed ramping feature. This feature gradually increases the speed to your desired setpoint, eliminating splashing or spills. The Ohaus Incubating Rocking & Waving Shaker maintains a smooth rocking or waving motion thanks to its state-of-the-art motor and electronics.

Versatile and reliable, this shaker is ideal for various applications, including hybridizations, cell cultures, blotting techniques, staining, and destaining gels. Stay informed with ease as you monitor your experiments. The shaker features independent LED displays for temperature, speed/tilt angle, and time, allowing you to view all settings simultaneously.

Designed with convenience, the Ohaus Incubating Rocking & Waving Shaker comes with a detachable 3-wire cord and plug for easy operation. Its spill-resistant design ensures durability and longevity. Additionally, digital models offer overload protection with audio/visual alarms, while analog models feature an audible alarm and caution hot indicator.

Invest in the Ohaus Incubating Rocking & Waving Shaker ISWV02HDG-120V for unmatched performance in your laboratory. With its exceptional features and reliable construction - including a cast aluminum housing with a polycarbonate lid - this shaker guarantees precise and efficient mixing every time.
Upgrade your lab today and experience the difference.