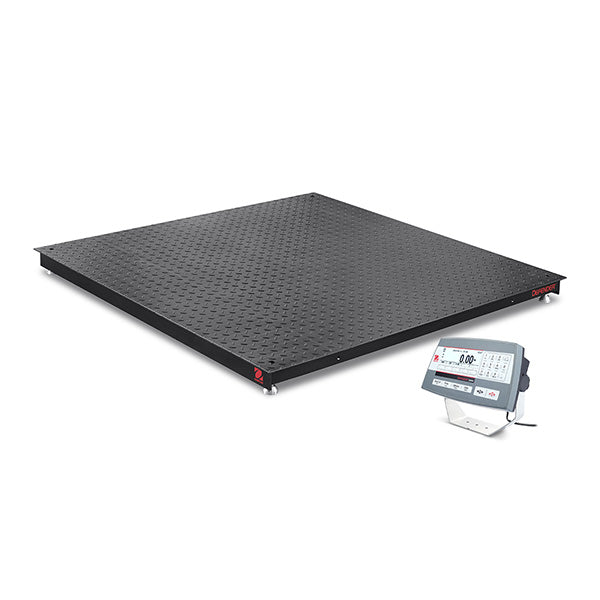 Ohaus 48"x 48" Floor Scales with Plastic Indicator i-DF52P2500B1L 2,500 lb x 0.5 lb
Original price
$2,525.00
-
Original price
$2,525.00
Introducing the Ohaus 48"x 48" Floor Scales with Plastic Indicator i-DF52P2500B1L 2,500 lb x 0.5 lb, a must-have for those seeking precision and versatility in their weighing needs.
This innovative scale from OHAUS is part of the Defender 5000 Series, offering a range of advanced features that make it a top choice for various applications.

Equipped with the TD52 series indicator, this floor scale combines simplicity with functionality. With its user-friendly keypad and large backlit display, navigating through operations is a breeze. The plain text on-screen prompts provide clear guidance every step of the way, ensuring accurate and efficient weighing.

One of the standout features of this floor scale is its four IP68 electro-polished stainless steel load cells. These load cells are laser-welded, hermetically sealed, and OIML-approved, guaranteeing precise and reliable measurements across all models. Whether you're weighing small parts or more oversized items, you can trust in the accuracy of the Ohaus Defender 5000 Series.

The combination floor-pit mount design adds to the versatility of this scale. It can be easily transported for portable use or installed permanently above or below ground. This flexibility allows you to adapt the scale to your specific requirements, making it suitable for a wide range of industries and environments.

The Ohaus 48"x 48" Floor Scale also offers an array of useful features for enhanced convenience and efficiency. With its backlit liquid crystal display (LCD), you'll have no trouble reading measurements, even in dimly lit areas. The internal power supply ensures consistent performance, while the option to use rechargeable batteries provides added flexibility.

Communication is made simple with easy-to-access communication ports, including RS232 and Micro SD slots. Additional communication options like Ethernet and WiFi/Bluetooth are available as accessories. The scale also offers GLP/GMP data output with a real-time clock, allowing for seamless integration into your existing systems.

Built to withstand demanding environments, this floor scale features an ABS plastic indicator and a black-painted steel platform. The IP67 stainless steel junction box with top access ensures durability and protection against moisture. The OIML R60 electro-polished stainless steel load cells are designed to provide accurate readings even in challenging conditions.

With its structural channel bracing, pendulum design feet, and removable rubber cap, the Ohaus 48"x 48" Floor Scale offers stability and reliability. It also provides 150% overload protection, giving you peace of mind during heavy-duty weighing tasks. The scale includes various customizable settings such as checkweighing symbols, selectable operating languages, and adjusted contrast settings.

In conclusion, the Ohaus 48"x 48" Floor Scales with Plastic Indicator i-DF52P2500B1L 2,500 lb x 0.5 lb is a versatile and reliable weighing solution for a variety of industries. Whether you need precise measurements for laboratory work or require a portable scale for on-the-go applications, this scale has you covered.
Trust in Ohaus to deliver exceptional quality and performance with their Defender 5000 Series.