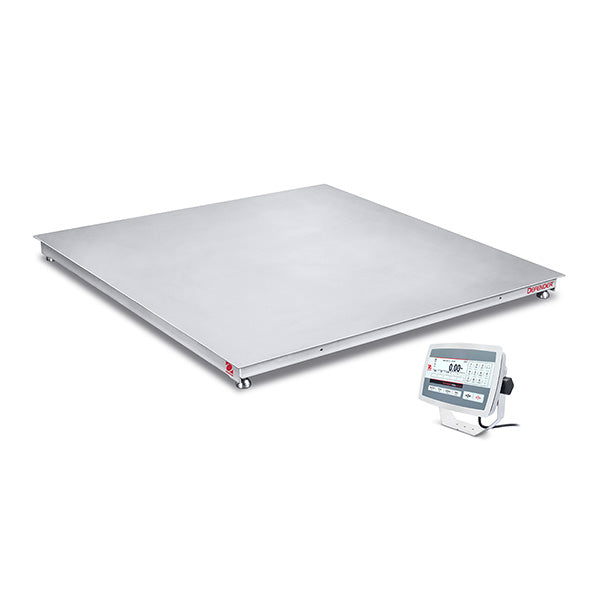 Ohaus 36"x 36" Washdown Floor Scales i-DF33XW2500C1R 2,500 lb x 0.5 lb
Original price
$4,165.00
-
Original price
$4,165.00
Introducing the Ohaus 36"x 36" Washdown Floor Scales i-DF33XW2500C1R 2,500 lb x 0.5 lb, the ultimate solution for all your weighing needs.

With its sleek and durable design, this floor scale is constructed with a sand-blasted, 304 stainless steel flat surface. The fixed top plate, measuring 5 mm thick, is reinforced with structural bracing, ensuring a sturdy and solid construction that can withstand heavy loads.

The Defender 3000 series offers six models with various platform sizes, from 1 x 1 m to 1.5 x 1.5 m, and capacities ranging from 600 kg to an impressive 3000 kg. This wide range of options provides you with the flexibility to choose the perfect scale for your specific weighing requirements.

Featuring a large, bright backlit LCD, the results are visible in any lighting condition. In Checkweighing mode, the display changes color (yellow/green/red) to alert users when they are within the target weight range, ensuring accurate and efficient weighing.

The Ohaus 36"x 36" Washdown Floor Scales i-DF33XW2500C1R is not limited to weighing. It also offers functionalities such as Checkweighing, Counting, and Totalization, making it a versatile tool for various applications.

With its internal power supply and rechargeable battery included, you can conveniently operate the scale without worrying about power sources. The standard RS232 communication allows for easy data transfer, and optional USB Device or Ethernet connections are available for enhanced connectivity.

Built to last, this floor scale features a 304-grade stainless steel IP66 indicator, a stainless steel platform, and an IP65 stainless steel junction box with side access. The four IP67 OIML R60 stainless steel load cells provide exceptional accuracy and durability.

For added convenience, the Ohaus 36"x 36" Washdown Floor Scales i-DF33XW2500C1R has 125% overload protection and four load cell mounted feet with a self-swiveling ball-in-cup design. Additionally, you can choose from painted or stainless steel floor stands (available as accessories) to suit your specific setup.

Experience the precision and reliability of the Ohaus 36"x 36" Washdown Floor Scales i-DF33XW2500C1R.
Whether in the laboratory, warehouse, or industrial setting, this scale is your go-to solution for accurate weighing.