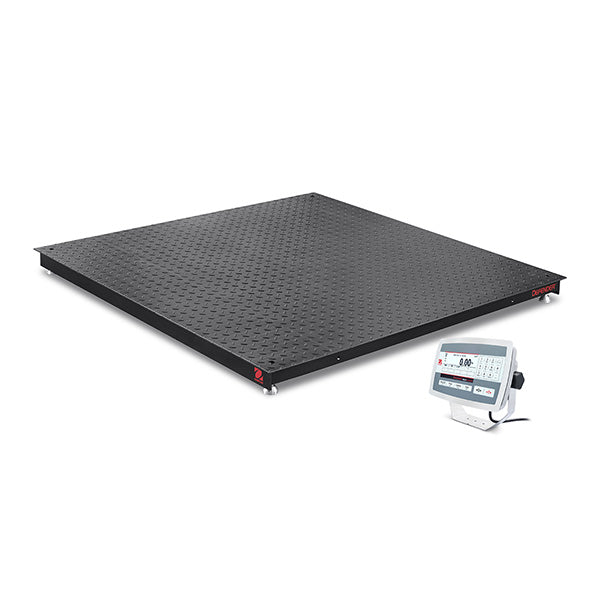 Ohaus 36"x 36" Floor Scales with Stainless Steel Indicator i-DF52XW2500B1R 2,500 lb x 0.5 lb
Original price
$2,450.00
-
Original price
$2,450.00
Introducing the Ohaus 36"x 36" Floor Scales with Stainless Steel Indicator i-DF52XW2500B1R 2,500 lb x 0.5 lb, a versatile and reliable weighing solution for your business needs.
Designed with precision and efficiency in mind, this floor scale is equipped with the advanced TD52 series indicator, making it easy to operate and navigate through its features.

With four IP68 electro-polished stainless steel load cells that are laser-weld, hermetically sealed, and OIML approved, you can trust in the accuracy and durability of this scale. Whether you need to weigh items, perform parts counting, percent weighing, checkweighing, or dynamic weighing, the Ohaus Defender 5000 Series Floor Scale has got you covered.

Featuring a combination floor-pit mount design, this scale offers versatility for both portable and stationary placement. It can be installed above or below ground to suit your specific requirements. The black-painted steel platform and ABS plastic indicator ensure a sturdy construction that can withstand daily use.

The backlit liquid crystal display (LCD) with 256 x 80 pixels provides clear visibility even in low-light conditions. The keypad is user-friendly, and on-screen prompts guide you through operation effortlessly. With an internal power supply and included power cord or the option to use a rechargeable battery (sold separately), you have flexible power options to suit your setup.

Communication is made easy with the Ohaus Defender 5000 Series Floor Scale. It offers accessible access communication ports, including RS232 and Micro SD slot (included), as well as a second RS232/RS485/USD device, Ethernet, and WiFi/Bluetooth options (sold separately as accessories). The scale also features GLP/GMP data output with a real-time clock for enhanced data management.

With additional design features such as structural channel bracing, pendulum design feet with removable rubber cap, 150% overload protection, and various adjustable settings, this floor scale is built to meet your specific needs. It also comes with selectable operating languages and checkweighing symbols, ensuring ease of use for all users.

Whether you need a reliable scale for your warehouse, laboratory, or any other business setting, the Ohaus 36"x 36" Floor Scales with Stainless Steel Indicator i-DF52XW2500B1R 2,500 lb x 0.5 lb is the ideal choice.
Invest in this high-quality scale and experience accurate and efficient weighing for your operations.