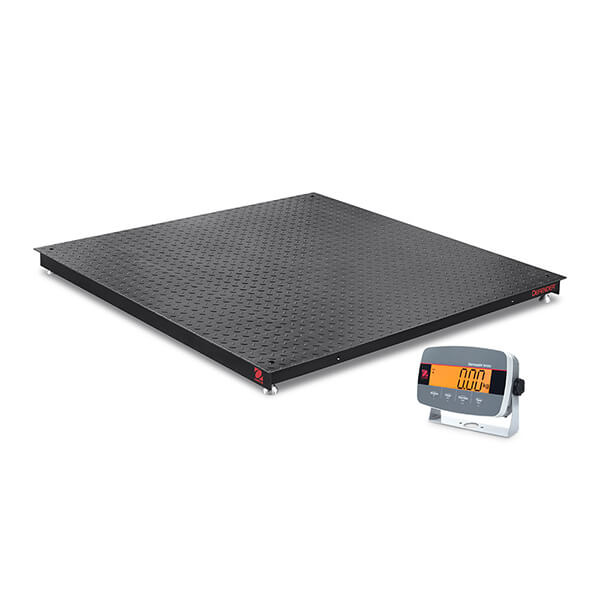 Ohaus 36"x 36" Floor Scales with Plastic Indicator i-DF33P2500B1R 2,500 lb x 0.5 lb
Original price
$1,850.00
-
Original price
$1,850.00
Introducing the Ohaus 36"x 36" Floor Scales with Plastic Indicator i-DF33P2500B1R 2,500 lb x 0.5 lb, the ultimate solution for all your weighing needs.
Engineered with precision and durability in mind, this scale guarantees accurate measurements and a solid construction.

Constructed with painted carbon steel and a raised treaded surface, this floor scale is built to withstand heavy loads. The fixed top plate, measuring 5mm thick, provides stability and ensures a sturdy foundation for all your weighing tasks. Equipped with four IP67 alloy steel load cells and structural bracing, this scale offers unbeatable reliability and accuracy.

The Defender 3000 series offers a range of six models featuring different platform sizes and capacities. With options ranging from 1 x 1m to 1.5 x 1.5m and powers from 600kg to 3000kg, you can find the perfect fit for your specific weighing requirements. Say goodbye to limitations and embrace the flexibility offered by the Defender 3000 series.

One of the standout features of this floor scale is its large, bright, backlit LCD. The results are clearly shown, making it easy to read and interpret measurements. In Checkweighing mode, the display changes color (yellow/green/red) to alert users when they are within the target weight range. This feature ensures efficient and accurate weighing every time.

The Ohaus 36"x 36" Floor Scales with Plastic Indicator i-DF33P2500B1R 2,500 lb x 0.5 lb are not limited to weighing tasks. It also offers additional functionalities such as counting and totalization, providing versatility for various applications.

With its ABS plastic indicator and IP65 stainless steel junction box with side access, this floor scale is designed to withstand harsh environments. The four load cell mounted feet with self-swiveling ball-in-cup design ensure stability and 125% overload protection, guaranteeing long-term durability.

For added convenience, this floor scale comes with standard RS232 communication and optional USB Device or Ethernet connectivity. The internal power supply, along with the power cord included, ensures uninterrupted operation. Additionally, it can be powered by 6C (LR14) batteries or a rechargeable battery, making it portable and suitable for a wide range of settings.

Upgrade your weighing experience with the Ohaus 36"x 36" Floor Scales with Plastic Indicator i-DF33P2500B1R 2,500 lb x 0.5 lb. Whether you need accurate measurements in a laboratory, warehouse, or industrial setting, this scale guarantees reliability, precision, and ease of use.
Don't compromise on quality - choose Ohaus for all your weighing needs.