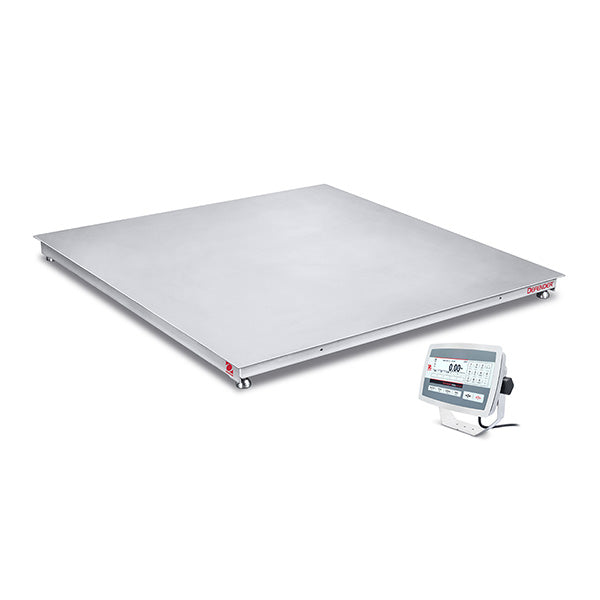 Ohaus 48"x 48" Washdown Floor Scales i-DF52XW5000C1L 5,000 lb x 1 lb
Original price
$5,680.00
-
Original price
$5,680.00
Introducing the Ohaus 48"x 48" Washdown Floor Scale i-DF52XW5000C1L 5,000 lb x 1 lb.
This innovative scale from Ohaus is part of their Defender 5000 Series, designed to revolutionize your weighing experience.

Equipped with the new TD52 series indicator, this floor scale boasts an easy-to-use keypad and a large backlit display. With plain text on-screen prompts guiding you through the operation, weighing has never been simpler.

The Ohaus 48"x 48" Washdown Floor Scale features four IP68 electro-polished stainless steel load cells that are laser-weld, hermetically sealed, and OIML approved. These load cells provide accurate and reliable measurements for all your weighing needs.

What sets this floor scale apart is its combination floor-pit mount design, offering unparalleled versatility. Whether you need a portable solution or prefer stationary placement, above or below-ground installation, this scale has got you covered.

The Ohaus 48"x 48" Washdown Floor Scale is perfect for a wide range of applications, including weighing, parts counting, percent weighing, checkweighing, and dynamic weighing with display hold functionality.

Featuring a backlit liquid crystal display (LCD) with 256 x 80 pixels, this scale ensures clear visibility in any lighting condition. The internal power supply with a power cord (included) or rechargeable battery (sold separately) allows for flexible operation.

In terms of communication capabilities, this scale offers easy access to communication ports, including RS232 and Micro SD slot. Additional communication options, such as a second RS232/RS485/USD device, Ethernet, and WiFi/Bluetooth, are available as accessories. The scale also supports discrete I/O and analog output (sold separately).

Constructed with a stainless steel indicator and bead-blasted stainless steel platform, the Ohaus 48"x 48" Washdown Floor Scale is built to withstand tough industrial environments. The IP67 stainless steel junction box with top access and IP68 OIML R60 electro-polished stainless steel load cells ensure durability and longevity.

With an array of design features, including structural channel bracing, pendulum design feet with removable rubber caps, and 150% overload protection, this floor scale is engineered for both accuracy and safety.

The Ohaus 48"x 48" Washdown Floor Scale also offers a range of convenient functions such as checkweighing symbols, menu lock switch, selectable operating languages, stability indicator, overload/underload indicators, and auto-print settings. With adjustable contrast settings, auto-dim display, auto-off, and auto-tare, this scale is designed to cater to your specific needs.

Choose the Ohaus 48"x 48" Washdown Floor Scale i-DF52XW5000C1L 5,000 lb x 1 lb for unmatched precision and versatility in weighing.
It's time to elevate your weighing experience with Ohaus.