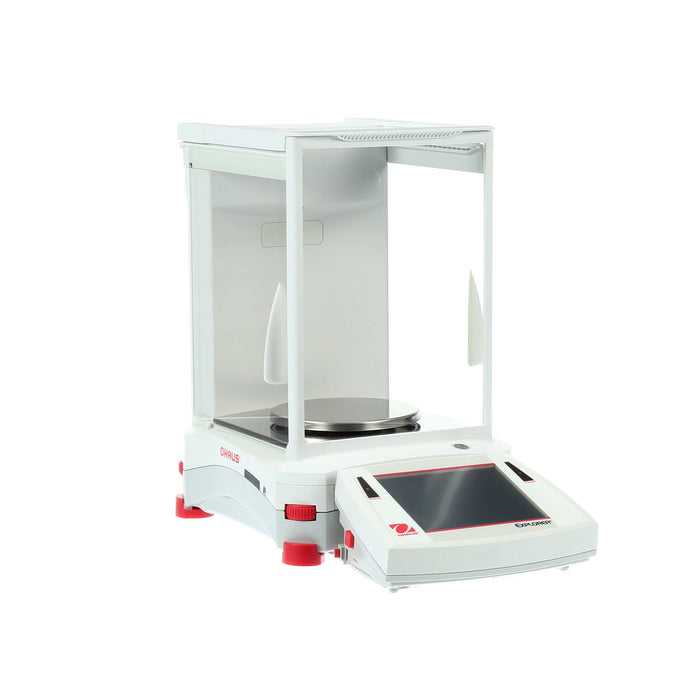 Ohaus Explorer Precision EX6201, Stainless Steel, 6200g x 0.1g
Original price
$4,048.00
-
Original price
$4,048.00
Introducing the Ohaus Explorer Precision EX6201, Stainless Steel, 6200g x 0.1g balance - a cutting-edge addition to your laboratory or industrial environment.
With its modern features and sleek design, this precision balance offers unparalleled functionality and accuracy unlike any other on the market.


Featuring a precision-machined weighing cell made from a solid metal block, the Explorer balance ensures exceptional durability and accuracy in all your measurements. Whether you're conducting complex laboratory experiments or industrial applications, this balance delivers consistent and reliable results every time.

With four-level user management and password protection, the Explorer balance provides added security for regulated applications. Its non-editable system log keeps track of all activity, ensuring complete traceability.

The detachable terminal has a large color touchscreen for easy navigation and programming. The programmable IR sensors allow for hands-free operation, minimizing cross-contamination and increasing efficiency. The frameless draft shield provides unobstructed access to the weighing pan, making placing and retrieving samples effortless.

The Ohaus Explorer Precision EX6201 offers many applications to suit your needs. From essential weighing and parts counting to advanced features such as percent weighing, check weighing, and animal/dynamic weighing, this balance has got you covered. It also enables formulation, density determination, peak hold, pipette adjustment, SQC analysis, and more.

The 5.7" full-color VGA graphic touchscreen display ensures clear data visibility with user-controlled brightness for optimal viewing. The AC adapter provides a consistent power supply during operation.

Communication is made easy with RS232 and USB connectivity included. You can add a second RS232/Ethernet interface (accessories sold separately) for additional connectivity options. The GLP/GMP data output with a real-time clock ensures accurate record-keeping and compliance with regulatory requirements.

Constructed with a sturdy metal base, ABS top housing, and a stainless steel pan, the Explorer balance is built to withstand the demands of your laboratory or industrial setting. The glass draft shield with top-mounted side doors and flip/sliding top door (1mg models) offers enhanced protection against external influences. The illuminated up-front level indicator ensures precise leveling, while the weigh-below hook and security bracket add convenience and security.

Additional design features such as selectable environmental filters, auto tare, software lockout, and reset menu, and user-definable project and user IDs make the Explorer Precision EX6201 highly customizable to your specific requirements. It also offers multi-language support, with up to 14 operating languages available.

Choose the Ohaus Explorer Precision EX6201 for unmatched accuracy, durability, and versatility in laboratory or industrial applications.
Experience the power of precision with this exceptional balance from Ohaus.