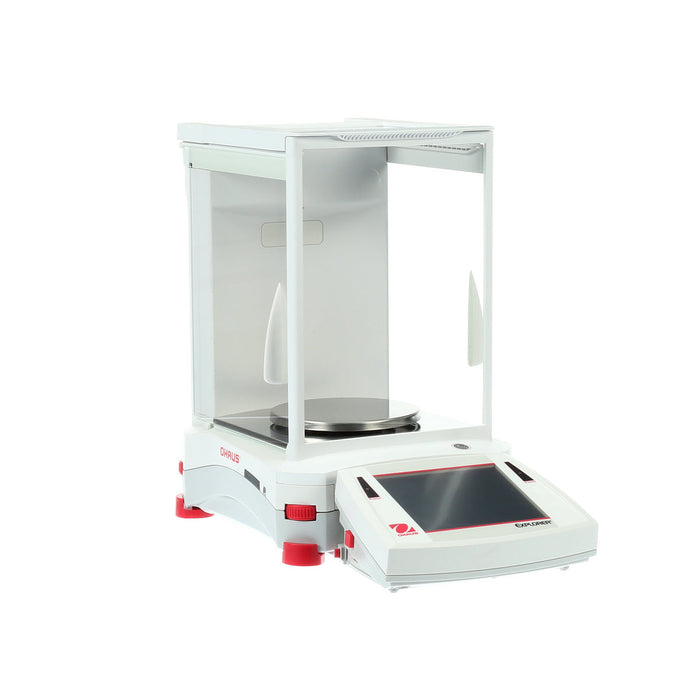 Ohaus Explorer Precision EX423/E, Stainless Steel, 420g x 1mg
Original price
$3,580.00
-
Original price
$3,580.00
The Ohaus Explorer Precision EX423/E Stainless Steel balance is a true game-changer in precision measurement.
With a maximum capacity of 420g and a readability of 1mg, this balance offers unparalleled accuracy and reliability for laboratory and industrial applications.


Featuring a precision-machined weighing cell crafted from a solid metal block, the Explorer balance delivers exceptional durability and precision. It's built to withstand the demands of rigorous environments, ensuring consistent and accurate results every time.

But it's not just about accuracy. The Explorer balance also boasts an array of intelligent features that make it incredibly user-friendly. The detachable terminal has a large color touchscreen, allowing easy navigation and programming. Programmable IR sensors further enhance convenience by enabling hands-free operation.

Regulated applications require an extra level of security and traceability. The Explorer balance is equipped with four-level user management with password protection, ensuring that only authorized personnel can access sensitive data. The non-editable system log provides a comprehensive audit trail, making it perfect for industries with strict compliance requirements.

The design of the Explorer balance is as impressive as its functionality. The frameless draft shield, equipped with top-mounted side doors and a flip/sliding top door (1mg models), allows for effortless sample placement and retrieval. The illuminated up-front level indicator ensures accurate leveling, while the weigh-below hook provides versatility for various weighing applications.

With selectable environmental filters, auto tare function, and user-definable communication settings, the Explorer balance offers unparalleled customization options. Whether you need to perform parts counting, check weighing, or density determination, this balance has got you covered.

Invest in the Ohaus Explorer Precision EX423/E Stainless Steel balance and experience the perfect blend of accuracy, durability, and convenience. With this high-performance balance from Ohaus, it's time to take your laboratory measurements to new heights.