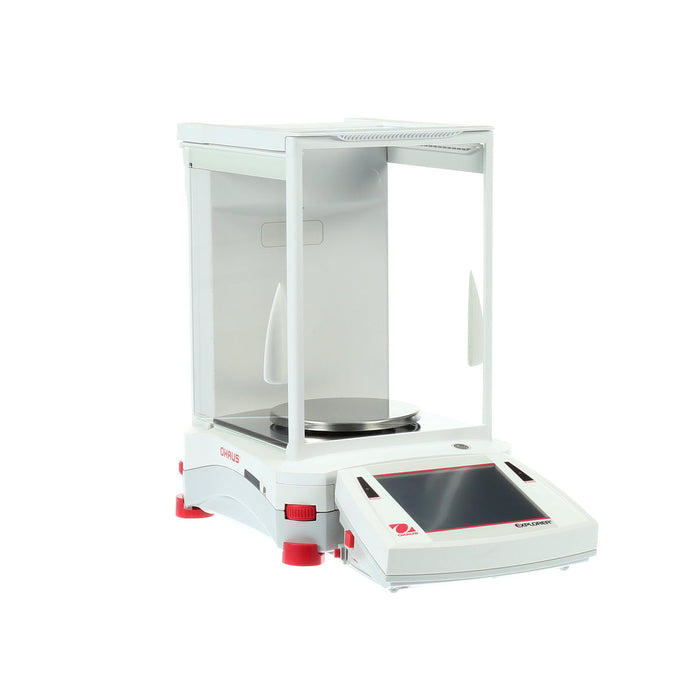 Ohaus Explorer Precision EX423, Automatic, 420g x 1mg
Original price
$4,036.00
-
Original price
$4,036.00
The Ohaus Explorer Precision EX423 is a cutting-edge precision balance that offers unrivaled functionality and performance.
With a maximum capacity of 420g and a readability of 1mg, this balance is perfect for laboratory and industrial environments.


What sets the Explorer series apart is its modern design and advanced features. Precision-machined from a solid metal block, the weighing cell ensures exceptional accuracy and durability. This makes the balance ideal for even the most complex measurements in regulated applications.

One of the standout features of the Explorer Precision EX423 is its detachable terminal, which comes equipped with a large color touchscreen. This user-friendly interface allows easy navigation and control, making your weighing tasks more efficient.

Additionally, the balance boasts programmable IR sensors and a frameless draft shield, further enhancing its convenience and usability. Whether weighing, counting parts, or determining density, the Explorer Precision EX423 covers you.

With a 5.7" full-color VGA graphic touchscreen display, you have complete control over brightness settings to ensure optimal visibility in any lighting condition. The balance offers various communication options, including RS232 and USB connectivity, allowing for seamless data transfer and GLP/GMP data output with a real-time clock.

Durability is not compromised with the Explorer Precision EX423. It features a metal base, ABS top housing, a stainless steel pan, and a glass draftshield with top-mounted side doors and flip/sliding top door for easy access to your samples.

The balance also has several design features that enhance its versatility and performance. Selectable environmental filters, auto tare function, user-selectable calibration points, and software lockout are options available to customize your experience.

With its advanced features and unmatched precision, the Ohaus Explorer Precision EX423 is the ultimate choice for laboratories and industries that demand excellence in their measurements.
Trust in Ohaus to provide you with the highest quality precision balances on the market.