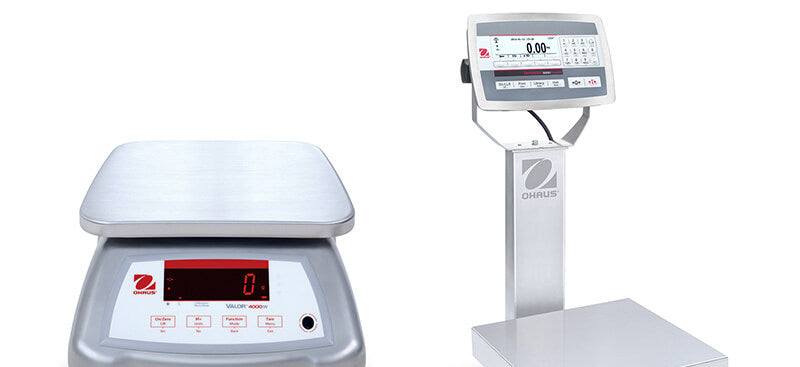 Industrial Scales Ideal for Washdown Areas
In industrial settings that require precision weighing, durable, washdown scales are essential.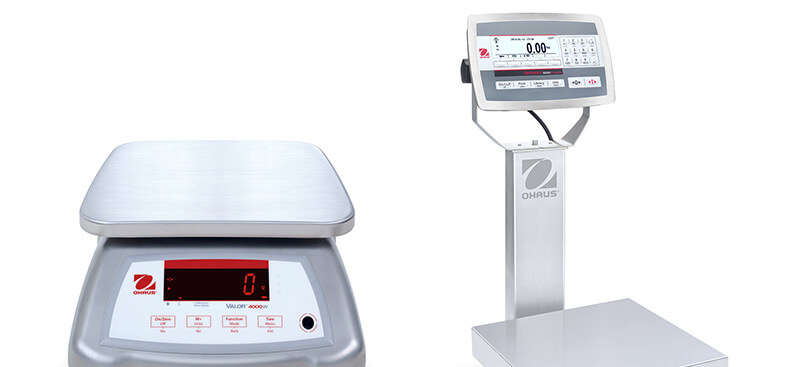 Washdown areas expose bench scales and food scales to moisture, water pressure and even submersion. In this circumstance, inferior products will not suffice. OHAUS offers several weighing options that are built to withstand such extreme conditions.
A Bench Scale Built for Washdown Areas
The new generation
 

OHAUS Defender® 5000
 

Washdown bench scale

 
is durably constructed to withstand wet environments.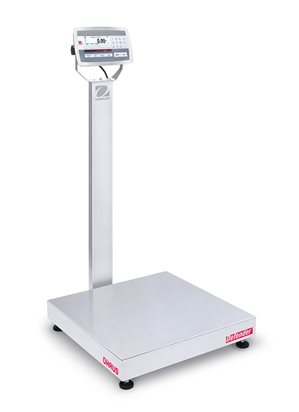 It features a 304-grade stainless steel platform and frame, and stainless steel IP68 indicator. Stainless steel loadcells are protected to IP67, meeting standards like OIML, EC Type Approval (up to 2x 3000e), NTEP and Measurement Canada (up to 5000d). Adjustable, non-slip rubber feet help ensure operational stability.
All Defender® models
are easy to clean and maintain for continued use.
OHAUS Defender® 5000 Washdown
is well-suited for standard applications, including production, packaging, inventory and shipping. The multifunctional bench scale allows for precision weighing, check weighing, percentage weighing, and more. It comes equipped with advanced features such as maximum configurability print output, GMP/GLP data output, library/user management and multiple connectivity options including WiFi and Bluetooth.
Defender® 5000
is designed to simplify demanding industrial and commercial applications. 
For all your weighing application needs,
Defender® 5000
offers durability, simplicity, advanced features, and the precision results you've come to expect from OHAUS. 
High-Performance Food Scales for Wet Conditions
The portable, tabletop
OHAUS Valor® 2000
and
4000
IPX8 washdown scales set the industry standard for food industry weighing with precision, speed, and durability. These durable, rapid-response food processing scales offer enhanced food safety, efficiency, and productivity even in harsh, wet environments.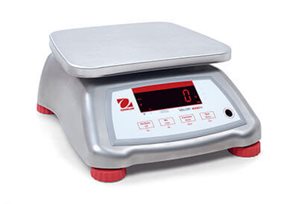 NSF certified/USDA-AMS accepted
Valor 2000
and
4000
support HACCP certified systems.
Valor® 2000
and
4000
each offer stainless steel platforms and housing, large LED front and rear displays, and puncture-resistant, polycarbonate keypads, making them good choices for use in dry or washdown environments.
Valor® 2000
is the premier value scale in the category. The NSF-certified food scale offers protection from moisture as well as from knives and other sharp instruments used in food preparation, processing and portioning applications. The unique IPX8 flow-thru design ensures that
Valor® 2000
XW will channels fluids that may enter the housing through strategically located drain holes, ensuring the scale remains clean and operational in wet environments. Stabilization time is less than a half-second, allowing for fast weighing results. Dual displays allow for easy viewing and shared operation.
Valor® 2000
XW is suitable for weighing and checkweighing and can operate on the included AC adapter or rechargeable battery for up to 50 continuous hours of operation. It features an up-front level indicator, auto-close power jack cover, and convenient carry handle. Non-slip leveling feet offer stability.
Valor® 2000
XW is easy to set up, operate, and thoroughly clean. And with an entry level price, it makes a terrific choice for essential food weighing operations.  
For more demanding legal-for-trade food weighing operations, the multifunctional
OHAUS Valor® 4000
XW water-resistant food scale offers the same speed and durability as its younger sibling, but it adds additional advanced features like touchless operation, checkweighing and percent weighing modes for maximum efficiency. Boasting an impressive half-second stabilization time,
Valor® 4000
allows for increased productivity without sacrificing accuracy.