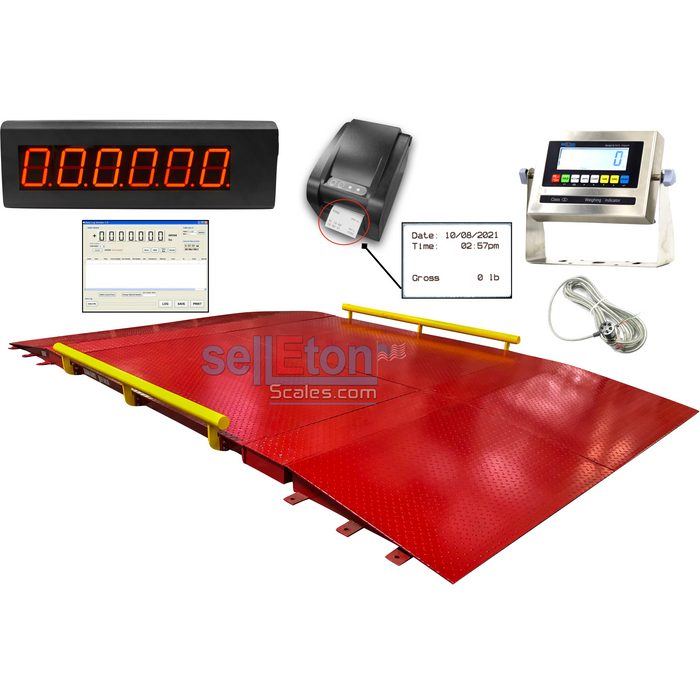 LS-934 Axle Truck Cargo Scale with Ramps | 10' x 10' | 20' x 10' | 30' x 10' | Non-NTEP
Original price
$9,999.00
-
Original price
$17,999.00
Original price
$17,999.00
Introducing the LS-934 Axle Truck Cargo Scale with Ramps, the ultimate solution for efficient weighing in various applications.
From warehouses to logistics companies and truck weighing stations, this scale offers unmatched accuracy and durability.
Key Features:
Featuring a stainless steel indicator printing system, the LS-934 ensures precise measurements every time.
With three sizes available - 10 feet, 20 feet, or 30 feet long - you can choose the scale that best fits your needs. The platform measures 10' (W) x 8.5″ (H), providing ample space for trucks of all sizes.
Equipped with two ramps measuring 5' (L) x 10′ (W) x 8.5″ (H), this scale allows for easy and convenient loading and unloading.
The bright yellow rails enhance safety and serve as a reliable guide for drivers.
The LS-934 offers an impressive capacity and accuracy range, with options of 60,000 lbs x 10 lb or 100,000 lbs x 20 lb.
Its six premium alloy steel nickel-plated load cells ensure consistent and reliable readings, even in wet environments, with its watertight IP67 rating.
This scale is built with overload protection to guarantee longevity and prevent damage.
The NEMA 4x stainless steel watertight junction box further enhances its durability and reliability.
As a testament to its quality, the LS-934 comes with a generous 5-year warranty. You can have peace of mind knowing that your investment is protected.

Invest in the LS-934 Axle Truck Cargo Scale with Ramps from Liberty Scales today. Experience accurate and efficient weighing like never before. Whether managing a warehouse or operating a truck weighing station, this scale is your reliable partner for success.
Shipping Policy:
We offer free shipping for business addresses within the contiguous 48 states. For residential delivery, a small additional fee of $100 applies. Lift gate services are also available for easy unloading, with an optional $50 charge if no forklift is available. People from Hawaii & Alaska can Contact us for personalized Shipping Quotes. Your satisfaction is our Top Priority! Kindly provide your contact number and company name for business purchases.
Don't settle for less when it comes to precision and durability – choose Liberty Scales for all your weighing needs.