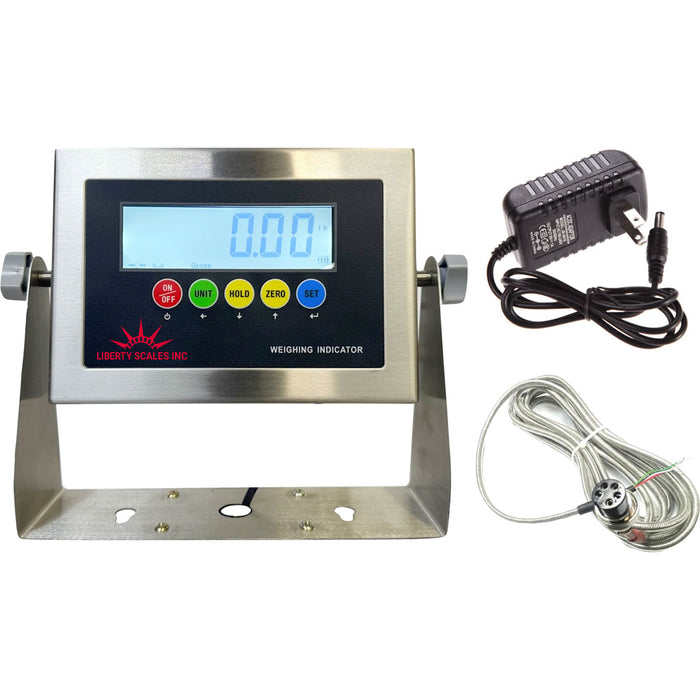 Liberty LS-7512-SS-C Stainless steel Indicator for bench or floor scale
Original price
$299.00
-
Original price
$399.00
Introducing the Liberty LS-7512-SS-C Stainless Steel Indicator for bench or floor scale.
This sleek and durable indicator is the perfect addition to any weighing system. Crafted with a stainless steel enclosure, it not only exudes a modern and professional look but also ensures longevity even in the most demanding environments.

Key Features:
With the Liberty LS-7512-SS-C, you have the option to choose between a vibrant LED or an easy-to-read LCD. This allows for effortless visibility in any lighting condition, making your weighing tasks a breeze. The indicator also offers multiple weighing units, allowing you to switch effortlessly between kilograms and pounds based on your preference.
Equipped with general weighing functions such as Gross, Tare, and Zero, this indicator provides you with utmost accuracy and precision. You can rely on its ability to drive up to four 350Ω load cells, ensuring reliable and consistent measurements every time.
Printing your weight readings is made simple with the convenient print option. Connect a compatible printer and effortlessly document your data for future reference or analysis.
Never worry about running out of power again! The Liberty LS-7512-SS-C comes with a built-in rechargeable battery that provides long-lasting performance. For added convenience, it also features a low battery reminder, ensuring you are always aware of when to recharge.
To conserve power, the indicator is equipped with an automatic power-off function. Say goodbye to wasted energy and hello to increased efficiency.
And as if all these features weren't enough, the Liberty LS-7512-SS-C comes with an incredible 5-year warranty! You can have peace of mind knowing that your investment is protected.
Experience top-of-the-line accuracy, durability, and functionality with the Liberty LS-7512-SS-C Stainless Steel Indicator.
Shipping Policy:

We offer free shipping for business addresses within the contiguous 48 states. For residential delivery, a small additional fee of $100 applies. Lift gate services are also available for easy unloading, with an optional $50 charge if no forklift is available. People from Hawaii & Alaska can Contact us for personalized Shipping Quotes. Your satisfaction is our Top Priority! Kindly provide your contact number and company name for business purchases.
Choose reliability. Choose precision. Choose Liberty Scales.