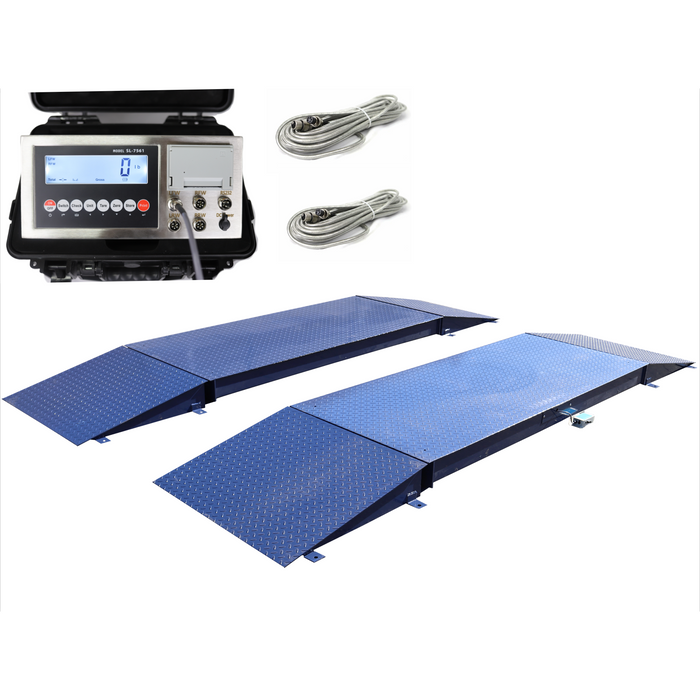 Liberty LS-80KX Heavy Duty 12' Truck Axle Scale 80,000 lbs capacity
Save

$5,501.00
Save

$5,501.00
Original price
$12,000.00
Original price
$12,000.00
-
Original price
$12,000.00
Original price
$12,000.00
Introducing the Liberty LS-80KX Heavy Duty 12' Truck Axle Scale, the ultimate solution for accurately and efficiently weighing trucks and vehicles.
LS-80KX is an ideal scale to check truck weights for reference. This axle scale is non-NTEP. We carry this axle scale in wired as well as wireless versions. 
Key Features:
This heavy-duty package includes two or four weigh-bridge scales and four or eight ramps, ensuring a seamless weighing experience.
Designed to withstand the toughest conditions, the Liberty LS-80KX features a robust construction with a 1/2" deck plate for enhanced durability.
It effortlessly weighs the truck or vehicle two wheels at a time, then conveniently adds up the total weight, providing you with precise measurements.
Say goodbye to guesswork! With the Liberty LS-80KX, you can print a receipt displaying the date, time, and weight.
The individual readouts are intelligently calculated to give you an accurate sum of the total weight, allowing for easy record-keeping and analysis.
Equipped with a stainless steel indicator, this axle scale ensures reliability and longevity.
The scale sizes of 144" (L) x 36" (W) x 6" (H) provide ample space for seamless weighing operations.
Additionally, the eight large enveloped shear beam load cells with NEMA junction boxes and signal trim board guarantee precise measurements every time.
Thanks to the included 15' load cell cable and eight adjustable swivel steel feet, installation is a breeze.
You can rest assured that this axle scale is calibrated with 12000 division accuracy, delivering consistent and trustworthy results.

With a generous 5-year warranty, you can have peace of mind knowing that your investment is protected.
For accurate weighing that you can depend on, choose the Liberty LS-80KX Heavy Duty 12' Truck Axle Scale. Whether managing a logistics company or operating a weigh station, this scale is your reliable partner in optimizing efficiency and ensuring compliance. Experience the precision of Liberty Scales today.
Easy Installation! Comes calibrated. Simply install the feet and connect the cables. It's That Easy.  
Shipping Policy:
We offer free shipping for business addresses within the contiguous 48 states. For residential delivery, a small additional fee of $100 applies. Lift gate services are also available for easy unloading, with an optional $50 charge if no forklift is available. People from Hawaii & Alaska can Contact us for personalized Shipping Quotes. Your satisfaction is our Top Priority! Kindly provide your contact number and company name for business purchases.