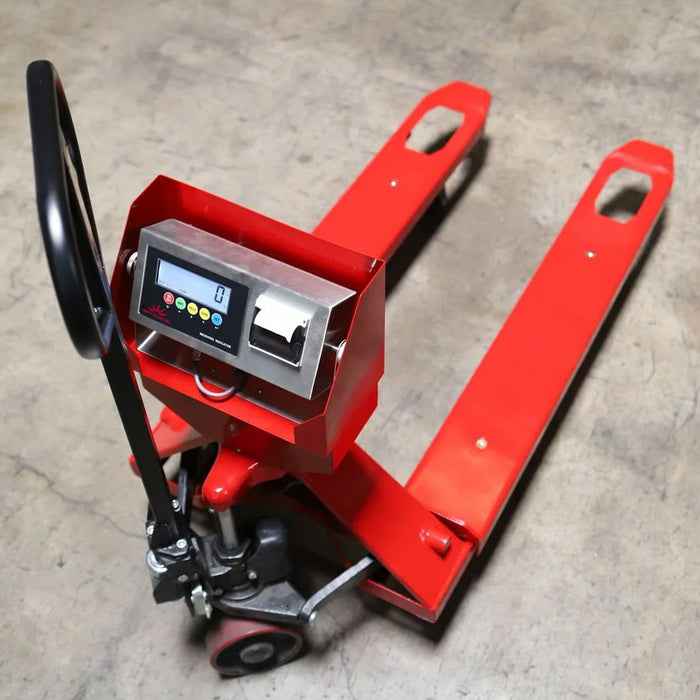 Liberty LS-5000-PJP Pallet Jack Scale with Built-in Printer l 5000 lb Capacity
Save

$1,000.00
Save

$1,000.00
Original price
$2,499.00
-
Original price
$2,499.00
Introducing the Liberty LS-5000-PJP Pallet Jack Scale with Built-in Printer, a game-changer in the world of industrial weighing equipment.
Key Features:
This heavy-duty marvel is specially designed to handle standard US pallets with openings higher than 3.4 inches, making it a breeze to insert and remove the forks.
With an impressive 5000 lb capacity, this pallet jack scale is a true heavyweight champion. Whether you're dealing with bulky shipments or hefty loads, it can easily handle it. The precision of its weighing capabilities is unparalleled, measuring in 1 lb increments for accurate readings every time.
One of the standout features of the Liberty LS-5000-PJP is its low-profile design. With a minimum height of just 3.25 inches, it effortlessly glides under pallets without hassle or obstruction. This makes it perfect for warehouses and other spaces where every inch counts.
Equipped with four alloy steel shear beam load cells, this pallet jack scale ensures reliable and consistent measurements. The stainless steel NEMA 4X junction box with a signal trim summing board further enhances its durability and performance in rugged industrial environments.
Maneuvering the Liberty LS-5000-PJP is a breeze, thanks to its rubber-rimmed wheels. These wheels provide smooth mobility and protect your floors from any potential damage.
We understand that efficiency is key in any business operation. That's why we've equipped the LS-5000-PJP with a built-in printer for your convenience. Say goodbye to manual recording and save valuable time by printing out weight tickets on the spot.
Measuring 50" x 27" x 48", this pallet jack scale is designed to fit seamlessly into your workflow. It comes pre-configured and calibrated as 5000 lb x 1 lb, ensuring immediate usability right out of the box.
But that's not all - the LS-7512-SS-P model has a built-in printer made from durable stainless steel. Now, you can conveniently print weight labels or receipts on the spot, eliminating the need for additional equipment and streamlining your weighing process.
To give you peace of mind, the Liberty LS-5000-PJP comes with a 5-year warranty, guaranteeing its quality and reliability for years to come.
Regarding heavy-duty weighing solutions, the Liberty LS-5000-PJP Pallet Jack Scale with Built-in Printer is a cut above the rest. Experience the power, precision, and convenience it offers and revolutionize your industrial weighing needs.
Shipping Policy:

We offer free shipping for business addresses within the contiguous 48 states. For residential delivery, a small additional fee of $100 applies. Lift gate services are also available for easy unloading, with an optional $50 charge if no forklift is available. People from Hawaii & Alaska can Contact us for personalized Shipping Quotes. Your satisfaction is our Top Priority! Kindly provide your contact number and company name for business purchases.