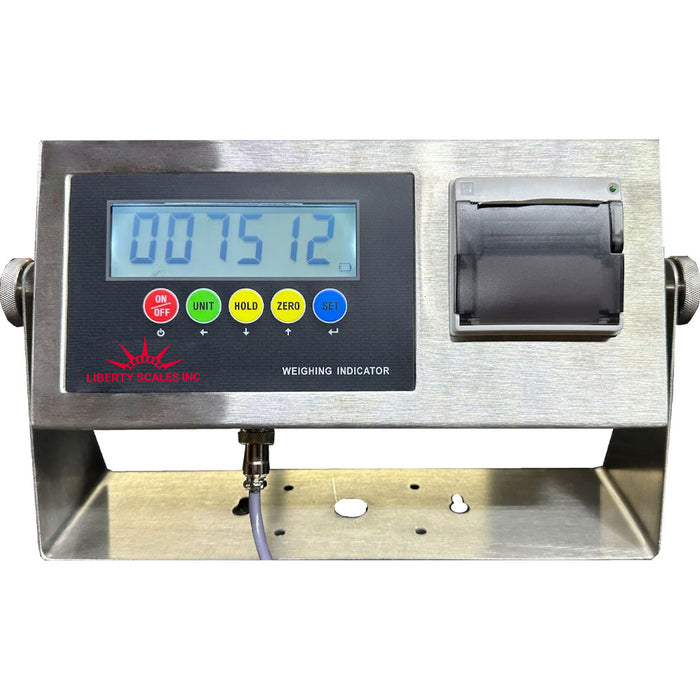 Liberty LS-7510-SS-P & LS-7512-SS-P Stainless Steel Indicator with Printer
Original price
$599.00
-
Original price
$599.00
Introducing the Liberty LS-7510-SS-P & LS-7512-SS-P Stainless Steel Indicator with Printer, the ultimate weighing solution for your business.
With its sleek stainless steel casing, this indicator exudes durability and modernity, making it a perfect fit for any professional setting.

Key Features:
Equipped with an AC adapter (battery optional), this indicator ensures uninterrupted operation, giving you peace of mind during busy workdays. Its LCD offers multiple weighing units, including lb/kg and g/oz/lb: oz, providing flexibility and convenience for various applications.

Featuring a range of functions, the Liberty LS-7510-SS-P & LS-7512-SS-P Indicator offers exceptional versatility. The Gross/Tare/Pre-Set Tare/Zero functions allow precise measurements at every step. With multiple Hold functions, you can easily freeze the weight display when needed. Count weighing enables accurate inventory management, while accumulation weighing simplifies complex calculations.

Never worry about overloading or underloading your unit again. This indicator has an overload/underload alarm to ensure safe and accurate measurements. Plus, its power-saving mode conserves energy, allowing extended use without draining the battery.

Say goodbye to manual date and time updates. The Liberty LS-7510-SS-P & LS-7512-SS-P automatically update the date and time, saving you valuable time and effort. Additionally, it allows you to modify gravity based on different geographical locations, ensuring accurate readings regardless of location.

With a 100% manual zero range setting and automatic error warning alarm, this indicator guarantees precision and reliability. The splash-proof keyboard and display protect against accidental spills or splashes, making it suitable for demanding environments.

Connectivity is key in today's fast-paced world, and this indicator delivers. It connects effortlessly to a remote display, providing clear weight readings from a distance. Additionally, it can be connected to multiple printers, streamlining your workflow and enhancing productivity.

Rest assured that the Liberty LS-7510-SS-P & LS-7512-SS-P Indicator meets the highest standards. NTEP is approved for 5,000 divisions and displays up to 50,000 graduations, it ensures accurate and consistent results every time.

Featuring a vibrant 1" LED or LCD with backlight, the Liberty LS-7510-SS-P & LS-7512-SS-P ensures easy readability in any lighting conditions. Whether you're weighing goods in a dimly lit warehouse or a brightly lit retail space, this indicator delivers crystal-clear results every time.
The included mounting bracket and hardware make installation a breeze, allowing you to set up your weighing system quickly and securely. No need to worry about finding the right tools or accessories - everything you need comes in the package.
Powered by a reliable 110V AC adapter (included), this indicator is always ready to go. Say goodbye to constantly replacing batteries and enjoy uninterrupted operation throughout your workday. The Liberty LS-7510-SS-P & LS-7512-SS-P is designed for convenience and efficiency.
Equipped with a full duplex RS-232 serial port, this indicator offers seamless connectivity with your other devices. Transfer data effortlessly and streamline your workflow with ease. Whether you're integrating your weighing system with a computer or printer, the Liberty LS-7510-SS-P & LS-7512-SS-P have got you covered.
Capable of driving up to six 350Ω load cells, this indicator provides accurate and precise measurements for even the heaviest loads. Trust in its reliability and accuracy when weighing your products or materials.
Invest in the Liberty LS-7510-SS-P & LS-7512-SS-P Stainless Steel Indicator with Printer and experience the ultimate combination of functionality and durability. With its exceptional features and top-notch performance, this indicator will elevate your weighing experience.
Shipping Policy:

We offer free shipping for business addresses within the contiguous 48 states. For residential delivery, a small additional fee of $100 applies. Lift gate services are also available for easy unloading, with an optional $50 charge if no forklift is available. People from Hawaii & Alaska can Contact us for personalized Shipping Quotes. Your satisfaction is our Top Priority! Kindly provide your contact number and company name for business purchases.
Choose Liberty scales for unparalleled quality and precision.