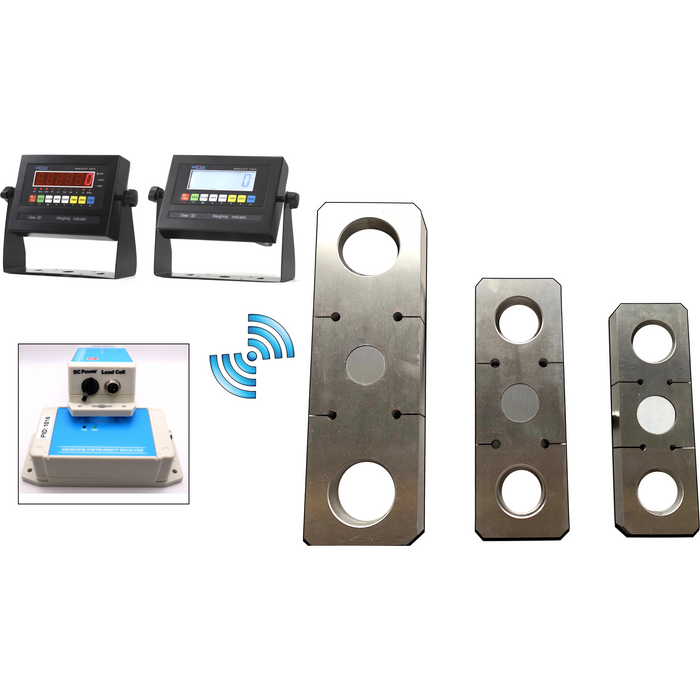 Liberty LS-927-W Wireless Tension Link Scale
Original price
$1,684.99
-
Original price
$4,287.99
Introducing the Liberty LS-927-W Wireless Tension Link Scale, the essential tool for all your heavy-duty weighing needs.
Crafted by Liberty Scales, this rugged and rechargeable crane scale combines cutting-edge technology with effortless usability.

Key Features:

One of the standout features of this crane scale is its patented electronic design, which guarantees exceptionally low power consumption. Thanks to this innovative design, you can enjoy up to 72 hours of continuous use before recharging. No more worrying about running out of battery during crucial weighing tasks.
To further enhance convenience, the LS-927-W comes equipped with an automatic shutoff feature. This intelligent function monitors the surrounding light conditions and automatically turns off the scale if the ambient light obstructs the display. This extends the battery life and ensures that you can always read the measurements accurately, regardless of the lighting conditions.
With its wireless functionality, you can now say goodbye to tangled cords and limited mobility. The Liberty LS-927-W allows for seamless connectivity and easy data transmission, enabling you to weigh objects from a distance without any hassle. This freedom of movement enhances efficiency and safety in your working environment.
Ideal for industrial applications such as manufacturing, warehousing, and logistics, the Liberty LS-927-W Wireless Tension Link Scale is a reliable and indispensable tool that makes weighing heavy loads a breeze. Invest in this advanced crane scale today and experience unparalleled accuracy and efficiency in your weighing operations.
With its automatic zero tracking feature, you can trust the Liberty LS-927-W to deliver precise weighing results even in challenging conditions. Say goodbye to inaccurate measurements caused by temperature changes or dust accumulation on the load-receiving element. This scale ensures reliable performance every time.
Equipped with the advanced LS-7510 NTEP indicator in LED and LCD options, this tension link scale offers intuitive and easy-to-read measurements. Monitor and control your overhead loads with ease thanks to this cost-effective solution that streamlines your processing operations.
Crafted with robust alloy steel construction, the Liberty LS-927-W guarantees durability and longevity. Paired with shackles, this scale accurately measures force and provides real-time data to make informed decisions about your operations.
Experience the freedom of movement with the impressive 300 feet wireless range of the Liberty LS-927-W. No more tangled cables or limited mobility. This scale offers the flexibility and convenience you need to maximize productivity.
For added convenience, the Liberty LS-927-W comes with a 26' load cell cable, with options for longer cables available. Choose the length that suits your specific requirements without compromising on performance.
We stand behind the exceptional quality of our product by offering a comprehensive 5-year warranty. Invest in the Liberty LS-927-W Wireless Tension Link Scale and enjoy knowing that your weighing needs are covered for years.
Choose Liberty Scales for your hanging, crane, and overhead scale needs. Experience precision, reliability, and efficiency like never before with the Liberty LS-927-W Wireless Tension Link Scale.
Shipping Policy:
We offer free shipping for business addresses within the contiguous 48 states. For residential delivery, a small additional fee of $100 applies. Lift gate services are also available for easy unloading, with an optional $50 charge if no forklift is available. People from Hawaii & Alaska can Contact us for personalized Shipping Quotes. Your satisfaction is our Top Priority! Kindly provide your contact number and company name for business purchases.