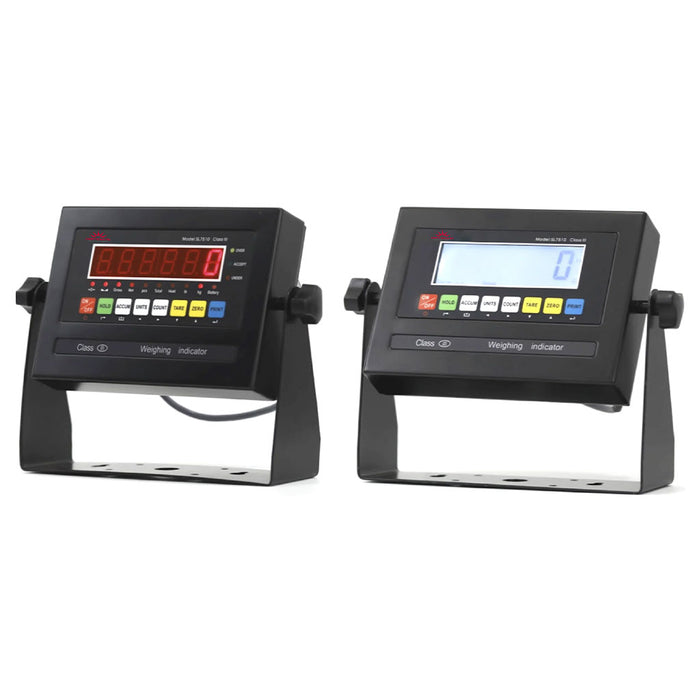 Liberty LS-7510 Mild Steel Indicator with RS-232 port (Optional Battery, 4-20 MA or 0-5v Relay)
Original price
$449.00
-
Original price
$449.00
Introducing the Liberty LS-7510 Mild Steel Indicator with RS-232 port, the perfect addition to your weighing system.
This indicator provides accurate readings and seamless integration with your existing setup.
Key Features:
With the Liberty LS-7510, you can power it through an AC adapter or use batteries for added convenience. Its multiple weighing units, including lb/kg and g/oz/lb: oz, ensure versatility in measuring a wide range of items. The LCD display showcases these units clearly and precisely.

Experience unparalleled functionality with the Liberty LS-7510. Its features include gross/tare/pre-set tare/zero functions, allowing you to calibrate and adjust measurements effortlessly. The indicator also offers multiple hold functions, making stabilising and recording weights easier than ever.

Counting becomes a breeze with this indicator, allowing you to count large quantities of items accurately and efficiently. Additionally, accumulation weighing lets you easily track cumulative weights for multiple items.

Rest assured, knowing that the Liberty LS-7510 has built-in overload and underload alarms. These alerts ensure that your weighing process always remains within safe limits. The indicator also boasts a power-saving mode, extending its battery life for prolonged usage.

Stay up-to-date effortlessly with the automatic date and time update feature. No more manual adjustments or inaccuracies in your records. Furthermore, the Liberty LS-7510 allows you to modify gravity based on different geographical locations, ensuring precise readings no matter where you are.

The indicator's 100% manual zero range setting guarantees accurate measurements each time. In case of any errors, the automatic error warning alarm immediately alerts you, preventing any potential data discrepancies.

The Liberty LS-7510 can withstand various working environments without compromising performance thanks to its splashproof keyboard and display. Additionally, it can be easily connected to a remote display for enhanced visibility and convenience during operations.

Take your productivity to the next level by connecting the Liberty LS-7510 to multiple printers. Streamline your workflow and eliminate manual data transfer for a more efficient weighing system.

Rest assured that the Liberty LS-7510 meets all industry standards, as it is NTEP-approved for 5,000 divisions. Its certificate number, 22-027, guarantees its accuracy and reliability.

Featuring a high-quality 1" LED or LCD with a convenient backlight, the Liberty LS-7510 ensures clear and easy-to-read measurements, even in low-light conditions. No more squinting or straining your eyes to get accurate readings. The display is designed to be user-friendly and provides up to 50,000 graduations for precise and reliable measurements every time.
Equipped with a full duplex RS-232 serial port, this indicator offers seamless connectivity to various devices such as printers, computers, and label makers. Easily transfer data and streamline your weighing process with the Liberty LS-7510. Say goodbye to manual recording and tedious data entry.
Built for convenience, this indicator has a mounting bracket and hardware, allowing for quick and hassle-free installation. The Liberty LS-7510 operates on a 110V AC adapter (included), ensuring a consistent power supply for uninterrupted operation. Additionally, it can drive up to 6 350mA load cells, making it suitable for a wide range of applications.
Whether you need precise measurements for industrial purposes or want accurate readings for commercial use, the Liberty LS-7510 Mild Steel Indicator with RS-232 port is the ultimate solution. With its durable construction and advanced features, it is designed to withstand heavy-duty usage while delivering accurate results every time.
Upgrade your weighing system with the Liberty LS-7510 Mild Steel Indicator with RS-232 port. Experience precision, versatility, and ease of use like never before.
Order yours today and revolutionize your weighing processes.

Shipping Policy:

We offer free shipping for business addresses within the contiguous 48 states. For residential delivery, a small additional fee of $100 applies. Lift gate services are also available for easy unloading, with an optional $50 charge if no forklift is available. People from Hawaii & Alaska can Contact us for personalized Shipping Quotes. Your satisfaction is our Top Priority! Kindly provide your contact number and company name for business purchases.