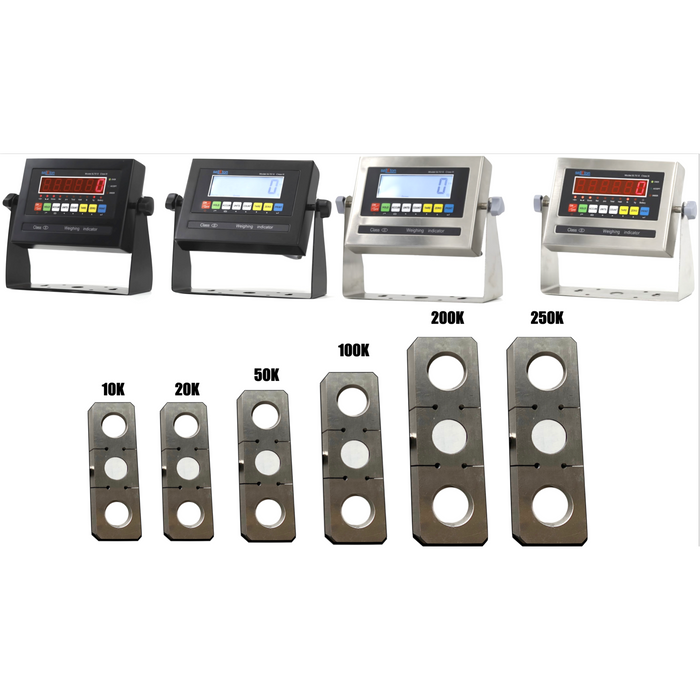 Liberty LS-927 Heavy Duty Industrial Tension Link Scale
Original price
$799.00
-
Original price
$3,629.99
Introducing the Liberty LS-927 Heavy Duty Industrial Tension Link Scale, the ultimate solution for measuring high-capacity loads with ease and precision.
Designed to be used with cranes, hoists, and winches, this hanging scale is a must-have tool for any industrial setting.
Key Features:
With capacities ranging from 10,000 lbs to an impressive 250,000 lbs, this scale can easily handle even the heaviest loads. Whether lifting machinery or measuring the force exerted on a structure, the Liberty LS-927 covers you.
At the heart of this scale is the

 

LS-7510

 

indicator, providing you with advanced features and intuitive operation.
The display of this industrial scale shows measurements in kilograms and pounds, providing you with the flexibility to work with different units of measurement. This feature ensures accuracy and makes communicating weight information easily across different teams and departments.
One of the standout features of this tension link scale is its lightweight and compact design. Despite its high capacity, it is incredibly portable and can quickly move around your workspace as needed. This makes it convenient to use in various locations and eliminates the need for multiple scales.
Not only does the Liberty LS-927 excel in performance, but it is also a cost-effective solution for processing, monitoring, and controlling overhead loads. Investing in this heavy-duty scale can enhance workplace safety and efficiency while minimizing downtime and costly errors.
Compatible with shackles to measure force, this industrial scale offers versatility and accuracy in all your weighing needs. Its durable construction ensures long-lasting performance, making it a reliable choice for your business.
With its robust power options, the Liberty LS-927 offers unparalleled convenience. Equipped with a 110V-220V AC adapter, you can effortlessly power it up wherever you are. Not only that, but it also boasts a built-in rechargeable battery that can last for up to an impressive 100 hours. Say goodbye to constant battery replacements and hello to uninterrupted productivity.
When it comes to reach, the Liberty LS-927 doesn't disappoint. Featuring a 26-foot load cell cable as standard, you'll have plenty of flexibility to work with. And if your requirements demand even more length, fret not – additional extended options are available. This scale truly adapts to your needs.
But what truly sets the Liberty LS-927 apart is its unwavering commitment to quality and durability. Backed by a generous 5-year warranty, this industrial tension link scale is built to withstand the test of time. You can trust that it will continue delivering accurate results and reliable performance year after year.
In summary, the Liberty LS-927 Heavy Duty Industrial Tension Link Scale is an indispensable tool for any operation that deals with high-capacity loads. With its exceptional features, such as selectable weighing units, lightweight design, and cost-effectiveness, it is the perfect choice for ensuring accurate measurements and streamlining your workflow.
Shipping Policy:
We offer free shipping for business addresses within the contiguous 48 states. For residential delivery, a small additional fee of $100 applies. Lift gate services are also available for easy unloading, with an optional $50 charge if no forklift is available. People from Hawaii & Alaska can Contact us for personalized Shipping Quotes. Your satisfaction is our Top Priority! Kindly provide your contact number and company name for business purchases.
Invest in this hanging scale today and experience the difference it can make in your business.