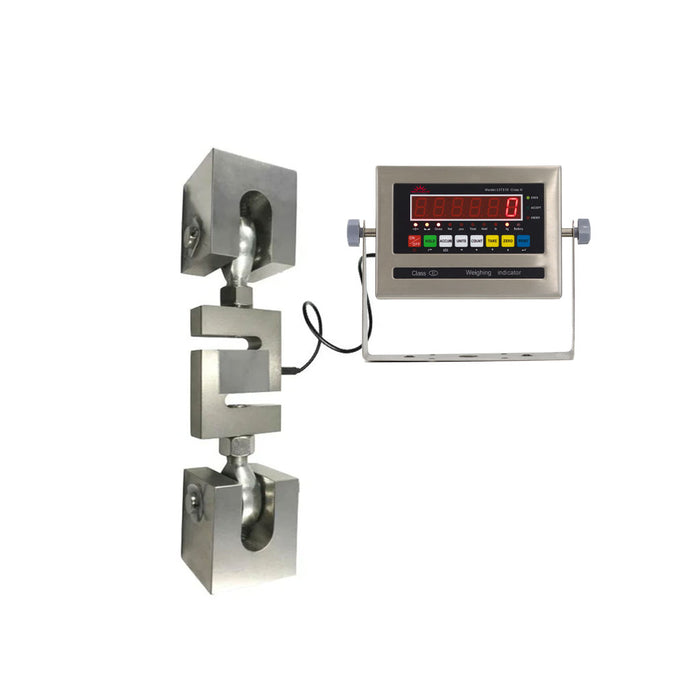 Liberty LS-312-TM S-Type Load Cell with Connection Links
Original price
$1,198.99
-
Original price
$2,248.99
Introducing the Liberty LS-312-TM S-Type Load Cell with Connection Links - the ultimate solution for precise vertical and horizontal weighing.
Designed to resemble a traditional crane scale, this innovative device offers secured connection points from both the top and bottom of the load cell, ensuring accurate and reliable measurements.
Features & Specifications:
With its LS-7510-SS indicator, this load cell system goes beyond the basics. The indicator boasts many impressive features, including peak hold functions, alarm notifications, software integration, wireless connectivity, counting capabilities, and more. Whether you need to weigh heavy loads or conduct rigorous testing applications, the Liberty LS-312-TM S-Type Load Cell with Connection Links and LS-7510-SS indicator has covered you.
No matter the task, this load cell system provides unbeatable accuracy and durability. Crafted with precision engineering and high-quality materials, it guarantees precise measurements every time. Its robust construction ensures longevity, allowing you to rely on it for years.
Why settle for less when you can have it all? The Liberty LS-312-TM S-Type Load Cell with Connection Links is the perfect choice for professionals in various industries such as manufacturing, logistics, warehousing, and more. Say goodbye to unreliable weighing methods and hello to efficiency and accuracy.
With a rate output of 3.0mV/V, the Liberty LS-312-TM ensures that even the slightest weight change is accurately detected. Its load cell resistance of 385 Ω OHMS further enhances its sensitivity, making it ideal for various applications, from crane scales to hanging scales.
Featuring a robust load cell cable, this device can easily handle heavy loads. For loads between 50 and 10k lbs, the load cell cable extends up to 20 ft or 6m, providing ample length for flexible installation. For heavier loads ranging from 15k-20k lbs, the load cell cable extends up to 40 ft or 12m, ensuring convenient connectivity in various setups.
Safety is paramount, so the Liberty LS-312-TM is engineered to withstand extreme conditions. With a safe overload capacity of 150% F.S. and a destructive load capacity of 300% F.S., this load cell can endure high-stress situations without compromising accuracy or performance.
An excitation of 10-20V AC/DC is recommended to ensure optimal operation. Whether operating in scorching heat or freezing temperatures, this load cell can handle it all with an impressive operating temperature range of -4 F to 104 F.
Invest in the Liberty LS-312-TM S-Type Load Cell with Connection Links and experience unparalleled precision and durability. From heavy-duty industrial applications to intricate weighing tasks, this load cell delivers consistent results, making it an invaluable asset for your business.
Shipping Policy:
We offer free shipping for business addresses within the contiguous 48 states. For residential delivery, a small additional fee of $100 applies. Lift gate services are also available for easy unloading, with an optional $50 charge if no forklift is available. People from Hawaii & Alaska can Contact us for personalized Shipping Quotes. Your satisfaction is our Top Priority! Kindly provide your contact number and company name for business purchases.
Don't settle for less when it comes to measuring accuracy—choose Liberty Scales for unrivalled quality and performance.