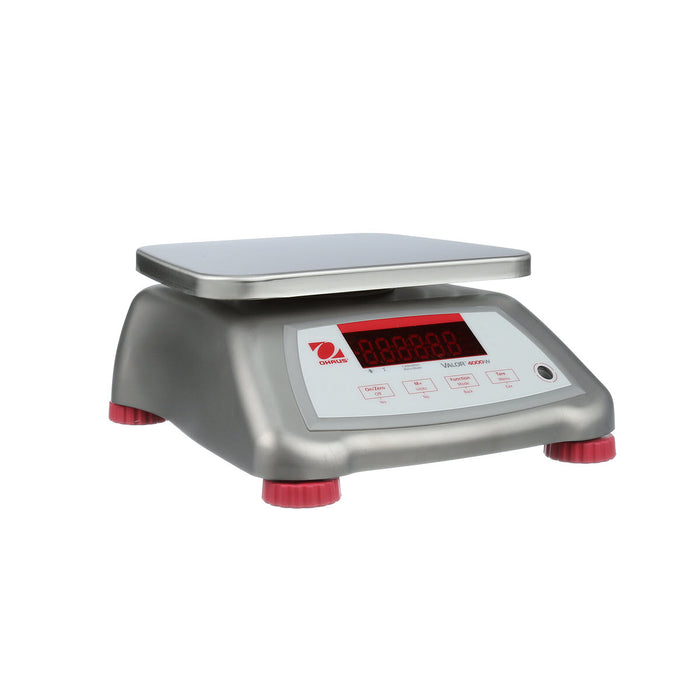 Ohaus 7.5" x 9.5" Valor 4000 V41XWE6T Legal For Trade 15 lbs x 0.005 lb
Original price
$750.00
-
Original price
$750.00
Introducing the Ohaus 7.5" x 9.5" Valor 4000 V41XWE6T Legal For Trade 15 lbs x 0.005 lb, the ultimate solution for demanding food processing applications.
This food-safe scale is NSF-certified, USDA-AMS accepted and supports HACCP-certified systems, ensuring compliance with the highest food safety standards.
With the Ohaus Valor 4000, you'll experience a significant increase in productivity. Thanks to its touchless Tare sensor, you can eliminate cross-contamination concerns and speed up weighing processes. The half-second stabilization time allows for quick and accurate measurements, saving you valuable time in your busy kitchen. Plus, the checkweighing mode and LEDs make it effortless to meet your weight targets with precision.
Durability is paramount in the food industry, which is why the Ohaus Valor 4000 is designed to withstand even the harshest conditions. Its unique knife-resistant keypad ensures long-lasting performance, while the IPX8 protection guarantees safe operation in wet environments. You can rely on this scale to deliver accurate results consistently, no matter what challenges come your way.
Whether you need to weigh ingredients, calculate percentages, perform checkweighing tasks, or accumulate weights, the Ohaus Valor 4000 has got you covered. Its dual light-emitting diode (LED) displays provide clear visibility from any angle, ensuring easy readability even in low-light conditions.
The Ohaus Valor 4000 offers flexible operation options. It can be powered using the AC adapter (included) or the rechargeable battery (included), giving you the freedom to use it anywhere in your facility. With its ABS housing and stainless steel platform (PW), or stainless steel housing and platform (XW), it not only looks sleek but also guarantees durability for years to come.
Experience convenience like never before with features like the auto-close power jack cover, menu and mode setup navigation prompts on keys, and transportation handle. The Ohaus Valor 4000 is not just a scale; it's a reliable partner that will streamline your food processing operations and deliver accurate results every time.
Choose the Ohaus 7.5" x 9.5" Valor 4000 V41XWE6T Legal For Trade 15 lbs x 0.005 lb, the preferred choice of professionals in the food industry.
Get yours today and elevate your weighing experience to the next level.