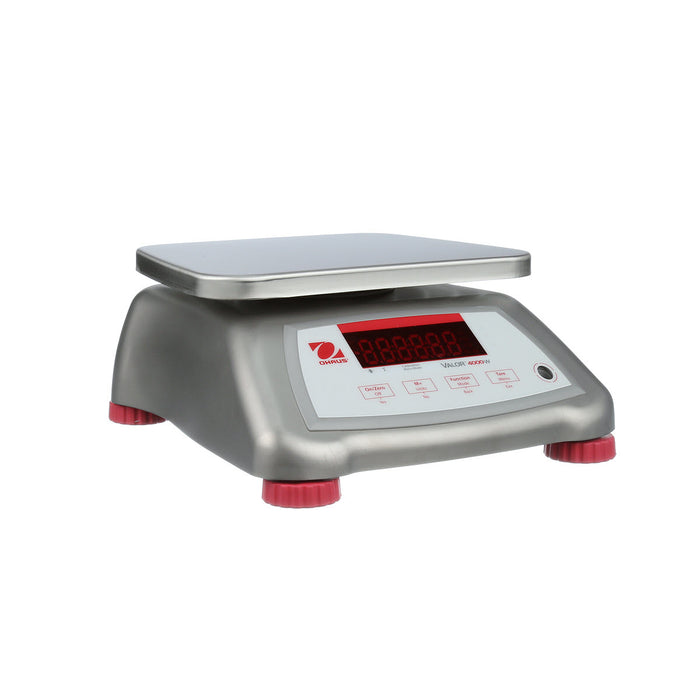 Ohaus 7.5" x 9.5" Valor 4000 V41XWE15T Legal For Trade 30 lbs x 0.01 lb
Original price
$750.00
-
Original price
$750.00
Introducing the Ohaus 7.5" x 9.5" Valor 4000 V41XWE15T Legal For Trade 30 lbs x 0.01 lb, the ultimate solution for demanding food processing applications.
This food-safe scale is NSF-certified, USDA-AMS accepted, and supports HACCP-certified systems, ensuring compliance with the highest industry standards.
With its innovative features, the Valor 4000 enhances productivity and efficiency in your weighing tasks. The touchless Tare sensor allows you to zero out containers without ever touching a button, saving you time and effort. Plus, with a lightning-fast half-second stabilization time, you can weigh your ingredients quickly and move on to the next task.
The checkweighing mode and LEDs make it easy to ensure accuracy in portioning or packaging. Set your target weight, and the Valor 4000 will indicate whether your sample is below, within, or above the specified range with its bright LED lights. This feature eliminates guesswork and guarantees consistent results every time.
When it comes to durability, the Valor 4000 is unmatched. Its unique knife-resistant keypad ensures that accidental cuts won't affect its performance, providing peace of mind in busy kitchen environments. Additionally, with an IPX8 rating for water protection, this scale can withstand wet conditions without compromising accuracy or safety.
Whether you're weighing ingredients or calculating percentages, the Valor 4000 has got you covered. Its versatile design includes a per cent weighing mode, allowing you to easily determine proportions and ratios for precise recipes.
The Ohaus 7.5" x 9.5" Valor 4000 V41XWE15T Legal For Trade 30 lbs x 0.01 lb is not only packed with features but also designed for convenience. The dual LED displays provide clear visibility from any angle, eliminating the need for constant adjustments. The scale can be powered by either the included AC adapter or the rechargeable battery, giving you the flexibility to use it anywhere in your kitchen.
Invest in the Ohaus 7.5" x 9.5" Valor 4000 V41XWE15T Legal For Trade 30 lbs x 0.01 lb and experience the difference in accuracy, efficiency, and durability.
It's time to take your food processing operations to the next level with this reliable and innovative scale from Ohaus.