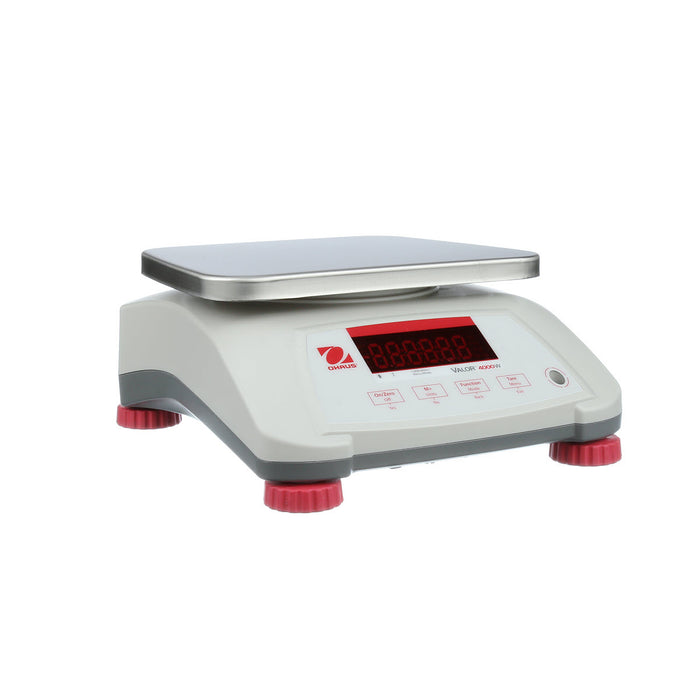 Ohaus 7.5" x 9.5" Valor 4000 V41PWE15T Legal For Trade 30 lbs x 0.01 lb
Original price
$642.00
-
Original price
$642.00
Introducing the Ohaus 7.5" x 9.5" Valor 4000 V41PWE15T Legal For Trade 30 lbs x 0.01 lb, the perfect solution for demanding food processing applications.
This food-safe scale is NSF-certified, USDA-AMS accepted, and supports HACCP-certified systems, ensuring the highest level of safety and accuracy.
With its innovative features, the Valor 4000 will significantly increase productivity in your operations. The touchless Tare sensor allows for quick and convenient measurements, saving you valuable time. In just half a second, the scale stabilizes, providing fast and reliable readings. The checkweighing mode and LEDs enable you to easily monitor weight variances, ensuring consistent product quality. Additionally, the per cent weighing mode allows for precise calculations, useful in a variety of applications.
Durability is key when it comes to a scale that can withstand challenging environments. The Valor 4000 features a unique knife-resistant keypad, protecting it from accidental damage and ensuring longevity. With its IPX8 protection rating, this scale is designed to operate flawlessly even in wet conditions.
The Ohaus 7.5" x 9.5" Valor 4000 V41PWE15T offers versatile functionality for a range of applications including weighing, per cent weighing, checkweighing, and accumulation. The dual light emitting diode (LED) displays provide clear visibility from any angle.
For added convenience, this scale can be powered by an AC adapter or a rechargeable battery, allowing for flexible usage in various settings. The ABS housing with a stainless steel platform ensures durability and easy cleaning.
Featuring an auto-close power jack cover and menu navigation prompts on keys, the Valor 4000 is designed with user-friendliness in mind. The transportation handle makes it portable and easy to move around as needed.
In summary, the Ohaus 7.5" x 9.5" Valor 4000 V41PWE15T is a reliable and efficient scale that meets the demands of the food processing industry. With its advanced features, durability, and ease of use, this scale is an essential tool for any operation.
Whether you need precise measurements or want to streamline your processes, the Valor 4000 has got you covered.