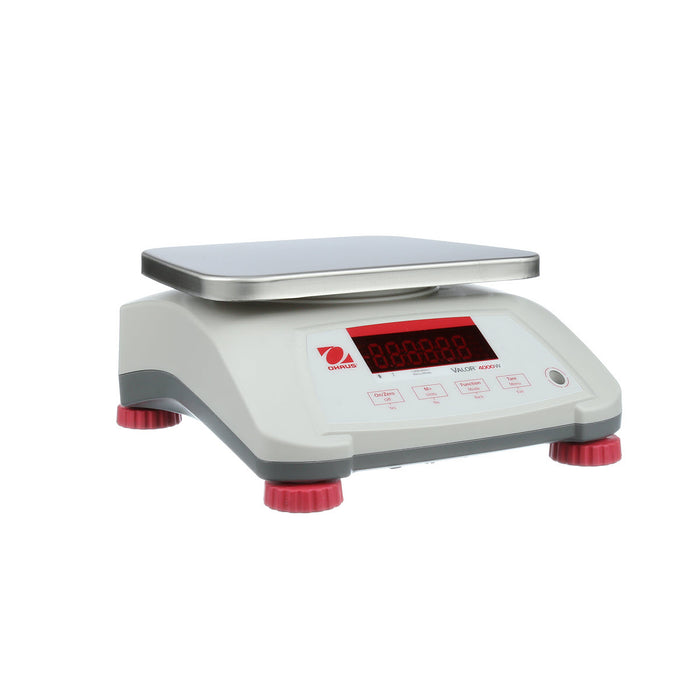 Ohaus 7.5" x 9.5" Valor 4000 V41PWE1501T Legal For Trade 3 lbs x 0.001 lb
Original price
$642.00
-
Original price
$642.00
Introducing the Ohaus 7.5" x 9.5" Valor 4000 V41PWE1501T Legal For Trade Scale, the perfect solution for demanding food processing applications.
With its food-safe certification and support for HACCP-certified systems, this scale ensures safety and accuracy in every weighing task.
Designed to enhance productivity, the Valor 4000 features a touchless Tare sensor, allowing for easy operation without touching any buttons. The half-second stabilization time ensures quick and precise measurements, saving you valuable time in your busy kitchen. Additionally, the checkweighing mode and LED indicators provide clear visual cues to ensure accurate portioning and minimize waste.
Durability is a priority with the Valor 4000. Its unique knife-resistant keypad can withstand the rigours of everyday use, offering longevity and reliability. The scale also boasts IPX8 protection, making it resistant to water damage and suitable for use in wet conditions. You can confidently rely on this scale to perform consistently, even in challenging environments.
The Ohaus Valor 4000 offers versatility with its multiple weighing modes. Whether you need to weigh ingredients, calculate percentages, check weights against target values, or accumulate weight totals, this scale has got you covered. The dual LED displays make it easy to read measurements from any angle, ensuring maximum convenience.
Transporting the Valor 4000 is a breeze thanks to its transportation handle. Whether you need to move it within your kitchen or take it on the go to various locations, this portable scale provides flexibility without compromising on accuracy.
Powered by an AC adapter or a rechargeable battery (both included), the Valor 4000 offers convenient options for operation. You can choose the power source that suits your needs best.
In summary, the Ohaus 7.5" x 9.5" Valor 4000 V41PWE1501T Legal For Trade Scale combines precision, durability, and versatility to meet the demands of food processing applications.
Invest in this reliable scale and experience increased productivity and efficiency in your kitchen.