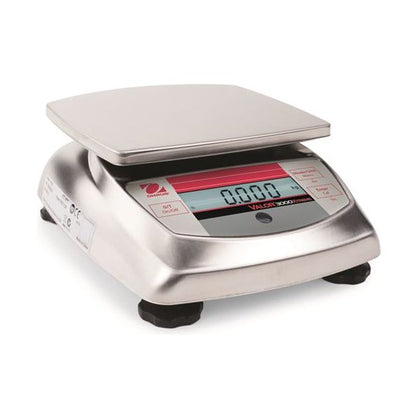 Ohaus 6.2" x 5.8" Valor 3000 V31XW6 Legal For Trade 13.23 lbs x 0.005 lb
Original price
$750.00
-
Original price
$750.00
Introducing the Ohaus 6.2" x 5.8" Valor 3000 V31XW6 Legal For Trade scale - a compact and reliable solution for all your food weighing needs.
With its stainless steel construction and NSF certification, this scale ensures the integrity and safety of your food products.
The Valor 3000 Xtreme is designed to deliver precise measurements in demanding environments. Its high resolutions of up to 40,000d and 0.01g guarantee accurate results every time. Whether you're weighing ingredients, calculating percentages, or determining specific gravity, this scale has got you covered.
One of the standout features of the Valor 3000 is its compact size, which requires minimal counter space. This makes it perfect for small kitchens or busy food preparation areas where space is at a premium. Despite its small footprint, this scale doesn't compromise performance or durability.
Equipped with a backlit liquid crystal display (LCD), the Valor 3000 ensures clear visibility of measurements in any lighting condition. Whether you're working in a dimly lit kitchen or a well-lit laboratory, this scale provides optimal visibility for accurate readings.
The Valor 3000 offers flexible power options - it can be operated using the included AC adapter or with 4 C (LR14) batteries (not included). This allows you to use it anywhere, whether you're in a laboratory setting or on the go.
With selectable environmental settings, auto tare functionality, and an up-front level indicator, the Valor 3000 simplifies your weighing tasks. It also features a load cell lock for added stability during use.
For added convenience, this scale offers selectable power-up units and optional food accessories. Customize your experience to suit your preferences and enhance your food weighing capabilities.
Choose the Ohaus 6.2" x 5.8" Valor 3000 V31XW6 Legal For Trade scale and experience the precision, versatility, and durability it brings to your food weighing operations.
Whether you're a professional chef, a food enthusiast, or a laboratory technician, this scale is the perfect companion for accurate measurements.