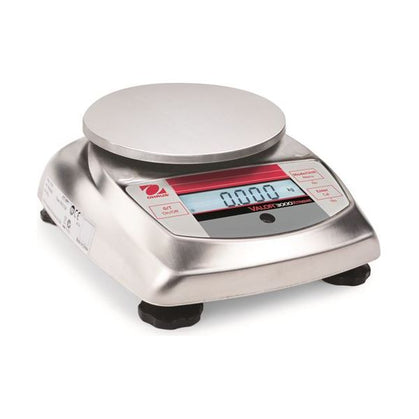 Ohaus 4.7" Valor 3000 V31XH202, 0.44 lbs x 0.00005 lb
Original price
$985.00
-
Original price
$985.00
Introducing the Ohaus 4.7" Valor 3000 V31XH202, the ultimate companion for precise food weighing and measurement needs.
With its sleek stainless steel design, this scale not only adds a touch of sophistication to your kitchen but also ensures the integrity and safety of all food products weighed on it.
Certified by NSF and HACCP, the Valor 3000 Xtreme is a reliable choice for professionals in the food industry. Its compact size requires minimal counter space, making it an ideal option for busy kitchens. Don't let its size fool you though, as this scale offers resolutions up to 40,000d and 0.01g, providing accurate measurements even in demanding environments.
Equipped with versatile software, the Valor 3000 can be used for various applications including weighing, per cent weighing, and specific gravity calculations. Whether you're measuring ingredients for a recipe or conducting scientific experiments in a laboratory, this scale has got you covered.
Featuring a backlit liquid crystal display (LCD), the Valor 3000 ensures easy readability in any lighting condition. Its user-friendly operation allows you to power it up using either the included AC adapter or 4 C (LR14) batteries (not included), giving you the flexibility to use it wherever you need.
Constructed with a durable stainless steel housing and platform, this scale is built to withstand the rigours of daily use. The up-front level indicator and load cell lock provide stability and accuracy during weighing sessions.
The Valor 3000 also offers a range of convenient design features such as selectable environmental settings, auto tare function to subtract the weight of containers, auto shut-off to conserve battery life, selectable power-up unit for different measurement systems, and optional food accessories to enhance your culinary experience.
Incorporating Liberty Scales' commitment to quality and precision, the Ohaus 4.7" Valor 3000 V31XH202 is the perfect choice for professionals who demand accuracy and reliability in their food weighing and measurement needs.
Upgrade your kitchen or laboratory with this exceptional portable scale and experience the difference it makes in your culinary endeavours.