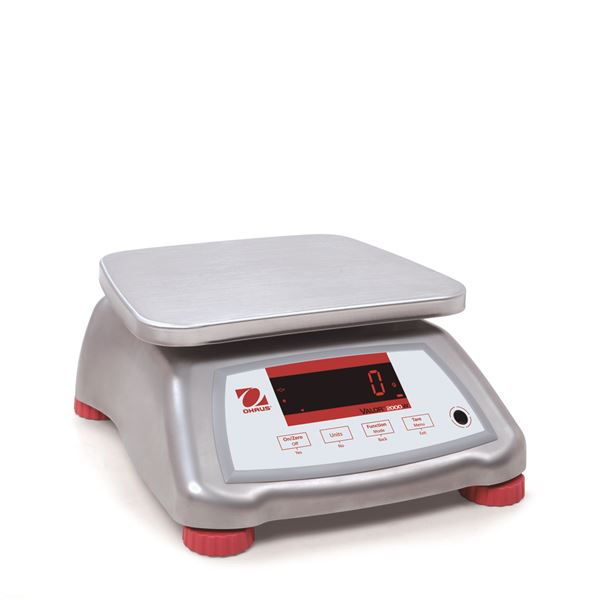 Ohaus 7.5" x 9.5" Valor 2000 V22XWE3T, 6 lbs x 0.001 lb
Original price
$688.00
-
Original price
$688.00
Introducing the Ohaus 7.5" x 9.5" Valor 2000 V22XWE3T, a compact and reliable scale that is perfect for your weighing needs.
Whether you are in a laboratory, kitchen, or any other environment that requires precise measurements, this scale will exceed your expectations.
With its sturdy polycarbonate keypad, the Valor 2000 offers exceptional protection against knives and other sharp instruments commonly used in food preparation and processing applications. You can confidently rely on this scale to withstand the demands of your busy kitchen without compromising accuracy.
One of the standout features of the Valor 2000 is its unique IPX8 flow-thru design. This design ensures that the scale will drain moisture, making it ideal for wet conditions. Its NSF certification is a testament to its durability and reliability in challenging environments.
The Valor 2000 boasts a lightning-fast stabilization time of less than a half-second. This means that you can get accurate measurements in no time, allowing you to streamline your operations and increase productivity. Additionally, the large front and rear LED displays make it easy for two operators to share one scale, enhancing efficiency in your workspace.
Whether you need to weigh ingredients or perform checkweighing tasks, the Valor 2000 has got you covered. Its dual LED displays provide clear readings, ensuring accurate results every time. You can choose to power this scale with the included AC adapter or rechargeable battery, giving you flexibility in how you use it.
Built with quality construction materials such as ABS housing with a stainless steel platform, the Valor 2000 is designed to withstand daily use and last for years. It also features an auto-close power jack cover and a convenient transportation handle for added convenience.
In conclusion, the Ohaus 7.5" x 9.5" Valor 2000 V22XWE3T is a versatile and reliable scale that meets the demands of various applications. With its exceptional features, durability, and ease of use, this scale is a valuable addition to any workspace.
Experience the precision and efficiency it offers for yourself and make your weighing tasks a breeze.