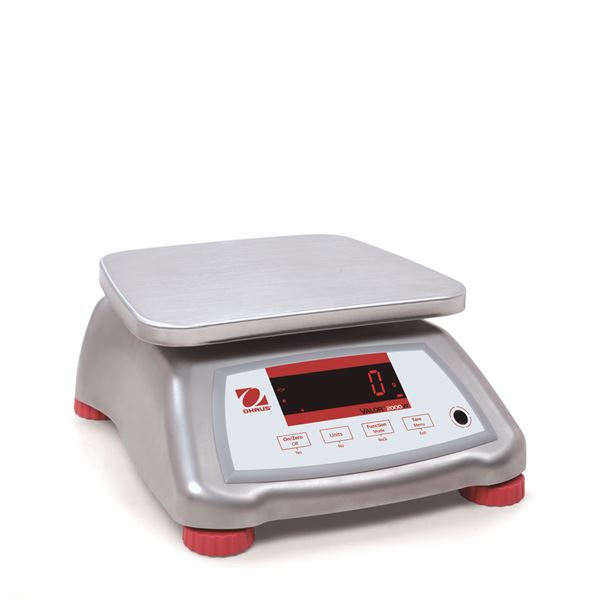 Ohaus 7.5" x 9.5" Valor 2000 V22XWE15T, 30 lbs x 0.005 lb
Original price
$688.00
-
Original price
$688.00
Introducing the Ohaus 7.5" x 9.5" Valor 2000 V22XWE15T, the perfect companion for all your weighing needs.
This rugged and reliable scale offers precision and durability like no other.
With its sturdy polycarbonate keypad, this scale is built to withstand the rigors of food preparation, processing, and portioning applications. It provides optimal protection from knives and sharp instruments commonly used in these environments. You can trust that the Valor 2000 will stand up to the toughest conditions.
What sets this scale apart is its unique IPX8 flow-thru design. This innovative feature ensures that the scale will drain moisture when used in wet conditions, making it ideal for a variety of environments. The Valor 2000 is NSF-certified, guaranteeing its reliability and performance in food-related applications.
Equipped with a lightning-fast stabilization time of less than half a second, this scale delivers quick and accurate results every time. The large front and rear LED displays make it easy to read and share measurements with your team. Now two operators can work together using just one scale, increasing efficiency and productivity.
The Ohaus Valor 2000 V22XWE15T offers versatile functionality for a range of applications. Whether you need precise weighing or checkweighing capabilities, this scale has got you covered. Its dual light-emitting diode (LED) displays provide clear visibility, ensuring you never miss a measurement.
Designed for convenience, this scale operates on either an AC adapter (included) or a rechargeable battery (included). No need to worry about running out of power during critical moments. Plus, with its auto-close power jack cover and transportation handle, this scale is easily portable and ready for use wherever you go.
Incorporating cutting-edge technology and superior craftsmanship, the Ohaus 7.5" x 9.5" Valor 2000 V22XWE15T is the ultimate choice for professionals who demand accuracy, durability, and efficiency.
Get your hands on this Liberty Scales product today and experience the difference for yourself.