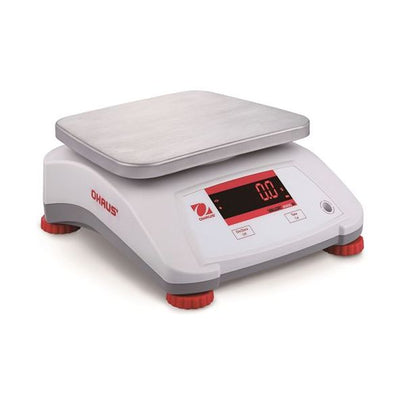 Ohaus 7.5" x 9.5" Valor 2000 V22PWE3T, 6 lbs x 0.001 lb
Original price
$580.00
-
Original price
$580.00
Introducing the Ohaus 7.5" x 9.5" Valor 2000 V22PWE3T, the ultimate companion for precision weighing in food preparation, processing, and portioning applications.
With its robust polycarbonate keypad, this scale offers unbeatable protection against sharp knives and other utensils commonly used in the culinary industry.
One of the standout features of the Valor 2000 is its unique IPX8 flow-thru design, which ensures that the scale drains moisture effortlessly when used in wet conditions. This innovative design has earned it the prestigious NSF certification, guaranteeing its durability and reliability even in challenging environments.
Thanks to its lightning-fast stabilization time of less than a half-second, you can rely on the Valor 2000 to provide accurate measurements instantly. The large front and rear LED displays make it incredibly easy to read the measurements from any angle, allowing two operators to conveniently share one scale without any hassle.
The versatility of the Valor 2000 is unparalleled. It excels not only in weighing applications but also offers checkweighing capabilities (XW only), making it a perfect choice for various tasks in laboratories, kitchens, and other professional settings.
With dual light-emitting diode (LED) displays, you can effortlessly monitor your measurements with utmost precision. The scale can be operated using either the included AC adapter or the rechargeable battery for maximum convenience.
Crafted with a rugged ABS housing and a stainless steel platform (PW), or a full stainless steel housing and platform (XW), the Valor 2000 is built to withstand heavy-duty use while providing accurate and consistent results. The up-front level indicator ensures that your scale is always perfectly balanced.
Featuring an auto-close power jack cover and a convenient transportation handle, the Valor 2000 offers exceptional portability without compromising on performance.
Experience the unbeatable combination of precision, durability, and convenience with the Ohaus 7.5" x 9.5" Valor 2000 V22PWE3T. Whether you are a culinary professional, a laboratory technician, or anyone in need of accurate weighing, this scale is the perfect companion for your everyday needs.
Choose the Valor 2000 and elevate your weighing experience to new heights.