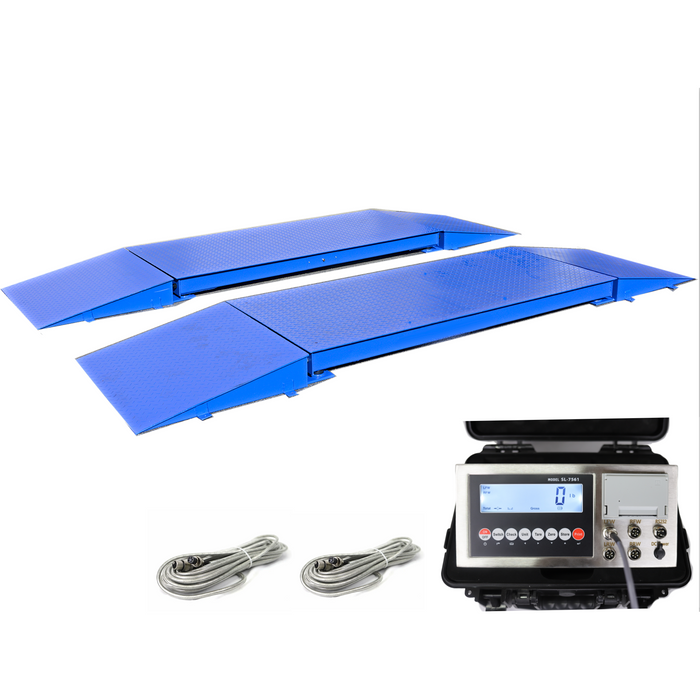 Liberty LS-60KX Heavy Duty 7' Truck Axle Scale with 60,000 lbs capacity
Original price
$4,999.00
-
Original price
$8,998.00
Introducing the Liberty LS-60KX Heavy Duty 7' Truck Axle Scale with an impressive capacity of 60,000 lbs.
Look no further if you need a reliable and accurate scale to check truck weights for reference. The LS-60KX is the perfect solution for non-legal trade applications.
Key Features:
This powerhouse package includes two or four weigh-bridge scales and your choice of four or eight ramps, ensuring optimal performance and flexibility for your weighing needs.
This heavy-duty axle scale is built to withstand the toughest conditions and features a robust design with a 1/2" deck plate.
It accurately weighs your truck or vehicle two wheels at a time and then seamlessly adds up the total weight. No more guesswork or estimation – you'll have precise measurements every time.
Convenience is key, so the Liberty LS-60KX has a stainless steel indicator that provides clear and easy-to-read readouts.
The individual readings are then summed up to give you the total weight, making it effortless to track your loads.
Measuring 84" (L) x 36" (W) x 6" (H), this scale boasts eight large enveloped shear beam load cells made of stainless steel.
Alongside the NEMA junction boxes and signal trim board, these load cells ensure accurate and reliable measurements.
Adjustability is also a top priority with eight adjustable swivel steel feet, allowing for precise leveling on any surface.
Additionally, the scale comes calibrated with 12,000 divisions, guaranteeing accuracy and precision in every reading.
To further enhance convenience, this 7' truck axle scale includes a generous 15' load cell cable, providing ample reach for easy installation and operation.
With a generous 5-year warranty, you can have peace of mind knowing that your investment is protected.
With the Liberty LS-60KX Heavy Duty 7' Truck Axle Scale, you can streamline your weighing process and have confidence in accurate measurements every time. Invest in this reliable and durable solution from Liberty Scales and experience unmatched performance for all your weighing needs.
Easy Installation! Comes calibrated. Simply install the feet and connect the cables. It's That easy. 
Shipping Policy:
We offer free shipping for business addresses within the contiguous 48 states. For residential delivery, a small additional fee of $100 applies. Lift gate services are also available for easy unloading, with an optional $50 charge if no forklift is available. People from Hawaii & Alaska can Contact us for personalized Shipping Quotes. Your satisfaction is our Top Priority! Kindly provide your contact number and company name for business purchases.