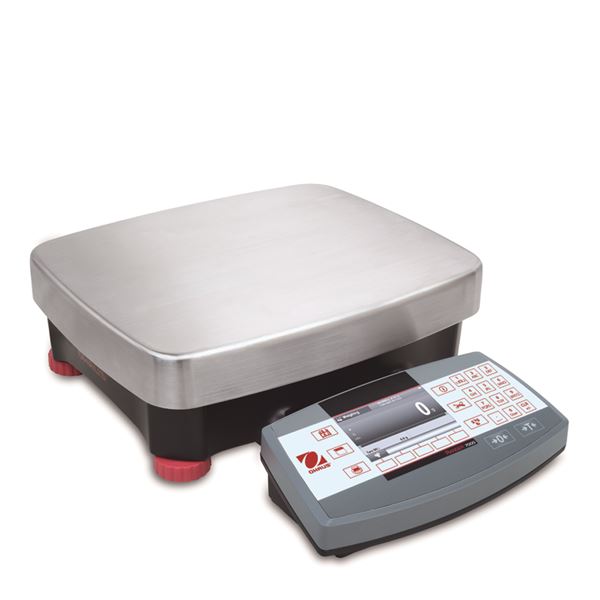 Ohaus 12.2" x 14.8" Ranger™ 7000 Legal For Trade R71MD35, 70 lbs x 0.01 lb
Original price
$2,393.00
-
Original price
$2,393.00
Introducing the Ohaus 12.2" x 14.8" Ranger™ 7000 Legal For Trade R71MD35, the ultimate solution for simplifying complex applications and eliminating the need for manual calculations.
With its advanced features and durable design, this scale is a must-have for any industrial environment.
Featuring 10 advanced application modes and peripheral device control, this scale takes the guesswork out of weighing tasks. Whether you need to perform parts counting with auto-optimization, percentage weighing, or even animal/dynamic weighing, this scale has got you covered. Say goodbye to manual calculations and hello to increased efficiency.
When it comes to precision, the Ohaus Ranger™ 7000 leads the pack. With a one-second stabilization time and a display resolution of up to 75,000 or 350,000, this scale is the most precise in its class. And with its legal-for-trade certifications, you can trust that your measurements are accurate and compliant.
Built to withstand even the toughest industrial environments, this scale features an IP54-rated metal housing and a sealed metal terminal. It's designed to thrive in rugged conditions and will continue to deliver accurate results day after day.
The Ohaus Ranger™ 7000 also offers versatility and convenience. With its 4.3" full-color WQVGA graphic display, you have complete control over brightness settings and can easily navigate through menus. Plus, it can be powered by AC power or a rechargeable battery for added flexibility.
Communication is a breeze with the easy access communication port, which includes standard USB and RS232 connections. And if you need additional connectivity options, there's an optional third port available for RS232 or Ethernet (accessories sold separately). With GLP/GMP data output and real-time clock functionality, you can easily track and document your results.
Designed with user-friendliness in mind, the Ohaus Ranger™ 7000 boasts a modular design, a removable stainless steel platform, and an integral weigh-below hook. It also offers a range of convenient features such as check weighing lights with selectable operation settings, several operating languages to choose from, and selectable environmental and auto print settings.
In summary, the Ohaus 12.2" x 14.8" Ranger™ 7000 Legal For Trade R71MD35 is the ultimate scale for simplifying complex applications in rugged industrial environments. With its advanced features, precision accuracy, and durable construction, it's the perfect companion for any weighing task.
Don't settle for less when you can have the best. Choose the Ohaus Ranger™ 7000 and experience the difference today.