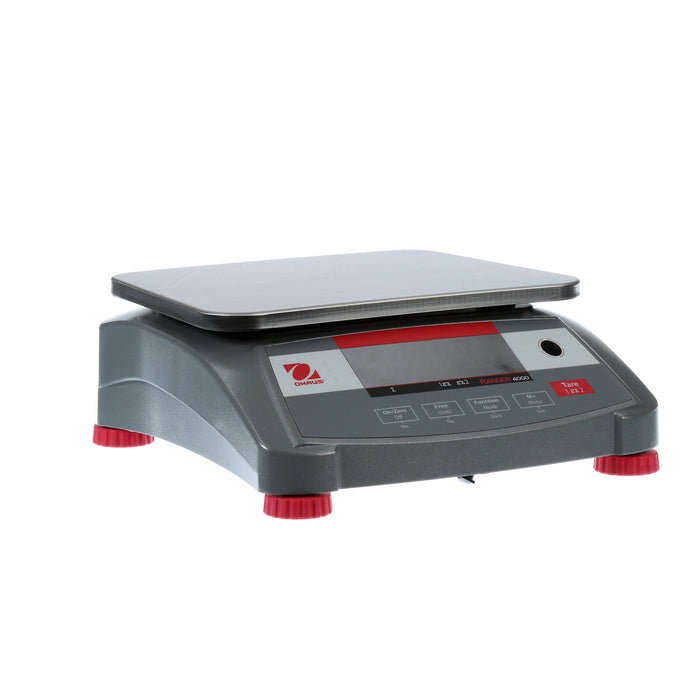 Ohaus 8.9" x 11.8" Ranger™ 4000 Legal For Trade R41ME15, 30 lbs x 0.01 lb
Original price
$1,200.00
-
Original price
$1,200.00
Introducing the Ohaus 8.9" x 11.8" Ranger™ 4000 Legal For Trade R41ME15, a powerhouse scale designed for tough industrial weighing.
With its sturdy metal housing and slip-resistant rubber feet, this scale offers unmatched protection, stability, and longevity.
The Ranger™ 4000 is renowned for its user-friendly interface, making it the most efficient scale on the market. Featuring Smart Text™ technology, setup and operation have never been easier. Say goodbye to time-consuming processes and hello to increased productivity in your workplace.
Equipped with the largest display in its class, this scale ensures optimal visibility and precision. The backlit LCD display provides crystal-clear readings even in low-light environments. Plus, with checkweighing LED indicators, you can easily monitor weight variances and maintain accuracy.
This versatile scale is perfect for a wide range of applications. Whether you need to weigh, count parts, perform check weighing, determine percentages, weigh animals dynamically, hold display values, or accumulate measurements, the Ranger™ 4000 has got you covered.
Powered by either AC power or the included rechargeable battery, this scale offers flexibility and reliability in any setting. With its easy-access communication port, including standard RS232 and an optional second RS232, USB or Ethernet port (accessories sold separately), data transfer is seamless and hassle-free.
Constructed with a rugged cast aluminium housing and a stainless steel platform, this scale is built to withstand the demands of industrial environments. It also features an integral weigh-below hook for added convenience. The sealed front panel protects against dust and spills while the menu lock switch prevents unauthorized access.
Other notable design features include an up-front level indicator for quick adjustments, adjustable levelling feet for stability on uneven surfaces, selectable environmental settings, and auto-print options. The stability indicator ensures accurate measurements by alerting you to unstable conditions.
Never worry about overloading or underloading with the overload and underload indicators. The low battery indicator lets you know when it's time to recharge, while the auto shut-off feature conserves battery life. The auto-tare function simplifies weighing tasks by automatically subtracting the weight of containers.
Incorporating Liberty Scales' expertise in precision and reliability, the Ohaus 8.9" x 11.8" Ranger™ 4000 Legal For Trade R41ME15 is the ultimate portable scale for industrial applications.
Experience unmatched efficiency, accuracy, and durability with this exceptional laboratory balance.