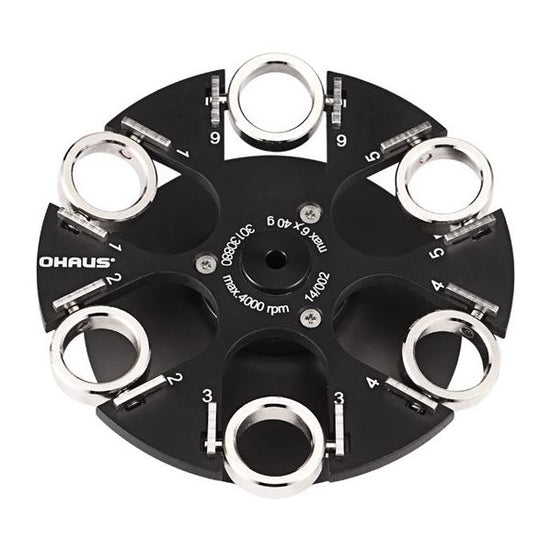 Ohaus R-S6x5/4 Frontier Rotors Centrifuge, 6 x 5 ml, 1,817 g
Original price
$845.00
-
Original price
$845.00
Introducing the Ohaus R-S6x5/4 Frontier Rotors Centrifuge, the perfect solution for all your sample preparation needs.
With its maximum capacity of 1,817 g and readability of 6 x 5 ml, this centrifuge offers unparalleled versatility and performance.

When choosing a rotor for your Frontier centrifuge, you have a range of options to suit your specific requirements. Whether you need basic functionality or high-performance capabilities, there is a rotor that will meet your needs.

One of the standout features of the Frontier rotors is their ease of use. Installing or removing them is a breeze, thanks to the simple and quick steps involved. With a few effortless movements, you can have the rotor in place and ready to go. This user-friendly design ensures that you can focus on your work without hassle.

Durability is another key aspect of the Frontier rotors. Constructed with high-quality materials, these rotors can withstand even the most demanding workflows. From autoclave sterilization to sub-zero temperatures, these rotors will remain sturdy and reliable, ensuring consistent performance over time.

The Ohaus R-S6x5/4 Frontier Rotors Centrifuge is an essential accessory for any laboratory or research facility. Its aluminum or polypropylene construction guarantees durability and longevity, while its easy installation design makes it a breeze.

Don't settle for anything less than the best regarding sample preparation.
Choose the Ohaus R-S6x5/4 Frontier Rotors Centrifuge and experience unmatched performance and convenience.