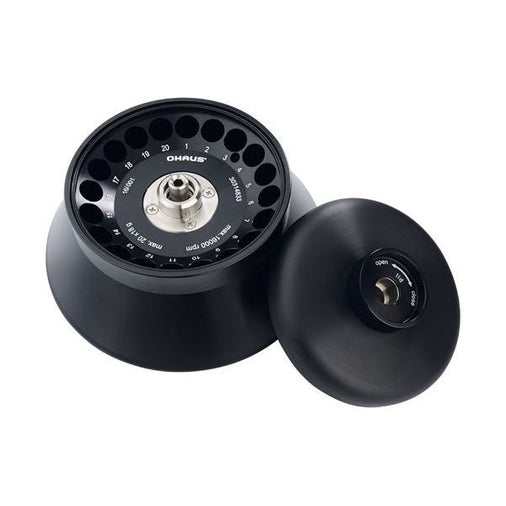 Ohaus R-A20x10/12MI Frontier Rotors Centrifuge, 20 x 10 ml, 360 g
Original price
$2,430.00
-
Original price
$2,430.00
Introducing the Ohaus R-A20x10/12MI Frontier Rotors Centrifuge, a powerhouse of performance and convenience for all your sample preparation needs.
With its impressive maximum capacity of 360g and readability of 20 x 10, this centrifuge is a game-changer in the world of laboratory balances.

When it comes to versatility, the Frontier rotors have got you covered. You can choose from a wide range of rotors that perfectly match your desired capacities and flexibility levels. Whether you need essential or high-performance sample preparation, this centrifuge can handle it all.

One of the standout features of the Frontier rotors is their user-friendly design. Installing or removing them is a breeze, thanks to their effortless installation process. In just a few quick and simple steps, you'll have your rotor ready to go. Plus, accessing your samples is incredibly easy, ensuring a seamless workflow without any unnecessary hassle.

Durability is another key aspect of the Frontier rotors. Constructed with top-notch materials, these sturdy rotors are built to last through even the most demanding workflows. From autoclave sterilization to sub-zero temperatures, they can withstand it without compromising their performance or longevity.

Whether you're working in a research lab or a medical facility, the Ohaus R-A20x10/12MI Frontier Rotors Centrifuge is an essential tool for any scientist or technician. Its aluminum or polypropylene construction ensures durability, while its easy-installation design makes it incredibly convenient.

Refrain from settling for subpar centrifuges when you can have the best. Upgrade your lab equipment with the Ohaus R-A20x10/12MI Frontier Rotors Centrifuge and experience unparalleled performance and efficiency in your sample preparation process.
Purchase yours today and take your research to new heights.