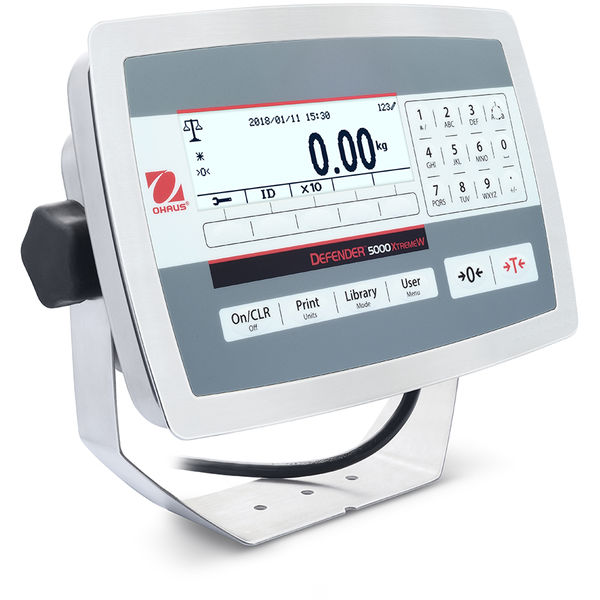 Ohaus Indicator TD52XW, Legal For Trade, Resolution 75,000 x 10,000
Original price
$1,059.00
-
Original price
$1,059.00
Multifunctional Indicators for Standard Industrial Applications

- Large transflective dot matrix display and SmarText 3.0 interface guides used with five soft keys. A full alphanumeric keypad and 6 control keys make operation easy.

- Supports up to 50,000 SKU items in memory and 1,000 user profiles with the included MicroSD card.

- Powerful enough to drive 8 350 ohm loadcells. Combine quickly with new OHAUS Defender W and R bases using the EasyConnect system.


Applications
Parts Counting with APW optimization, Checkweighing or Checkcounting, Percent Weighing, and Dynamic Weighing or Display Hold.
Display
Dot matrix LCD with white LED backlight, 256 x 80 pixels.
Operation
Internal power supply with power cord (included) or rechargeable battery (sold separately as an accessory).
Communication
Easy access communication ports including RS232 and Micro SD slot (included), second RS232/RS485/USD device, Ethernet and WiFi/Bluetooth, Discrete I/O and Analog Output (sold separately as accessories); GLP/GMP data output with real-time clock.
Construction
IP68/NEMA 4X stainless steel housing and mounting bracket.
Design Features
Check weighing symbols with the selectable operation and audible signal settings, menu lock switch, multiple operating languages, selectable environmental and Auto-print settings, stability indicator, overload/underload indicators, selectable adjust contrast settings, auto-dim, auto-off, auto tare, screensaver.
Resolution
75,000
Resolution (Certified)
10,000
Battery Life
20 Hours with Rechargeable Battery
Outputs

4 - 20mA;  2 In/4 Out digital I/O

Second Scale Input
Not Applicable
Protection Rating
IP68
Communication

Ethernet (Available as an Accessory);  2nd RS232/RS485/USB (available as an accessory);  RS232 (Included);  USB Host (Available as an Accessory);  WiFi/Bluetooth (available as an accessory)

Dimensions (HxLxW)

10.6 in x 8.7 in x 3 in (270 mm x 222 mm x 76 mm) (LxHxW)

Display

Dot matrix LCD with white LED backlight

In-use cover
No
Legal for Trade

NTEP Certified;  Measurement Canada Approved

Net Weight

4.4 lb (2 kg)

Power

Rechargeable Battery (Not Included);  AC Power (Included)

Tare Range


To capacity by subtraction

Stabilization Time
Not Applicable
Units of Measurement

Metric Tons;  Gram;  Kilogram;  Pound;  Tonne;  Custom;  Ounce;  Pound: Ounce

GramKilogramOuncePoundPoundOunce
Working Environment

14°F – 104°F, 85%RH, non-condensing (-10°C – 40°C, 85%RH, non-condensing)