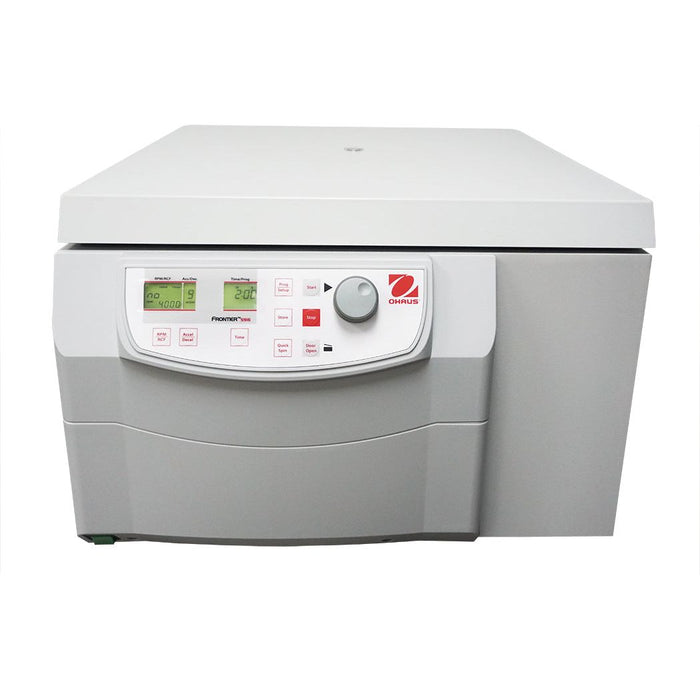 Ohaus Frontier 5000 Series Multi Pro, FC5916, 4 x 750 ml, 24325 g, 120V
Original price
$8,552.00
-
Original price
$8,552.00
Introducing the Ohaus Frontier 5000 Series Multi Pro, FC5916, a versatile centrifuge designed to meet all your laboratory needs.
With a maximum capacity of 24325 g and a readability of 4 x 750 ml, this high-speed centrifuge offers a customizable platform that can adapt to your specific workflow requirements.

Engineered with German precision and quality components, the Frontier 5000 Series Multi Pro guarantees reliable performance and consistent results. Its intuitive design allows for easy access to parameter settings and seamless transition between applications. Say goodbye to time-consuming manual adjustments, as this centrifuge features automatic rotor recognition and a backlit LCD for effortless operation.

Constructed from chemical-resistant stainless steel, this centrifuge ensures durability even in the most demanding lab environments. The corrosion-resistant chamber, coupled with a Polycarbonate/ABS plastic lid, ensures long-lasting use and protects your samples during centrifugation.

The Ohaus Frontier 5000 Series Multi Pro is perfect for a wide range of applications, including Centrifugal Separation, General Sample Preparation, Cell Pelleting, Protein Separation, Nucleic Acid Separation, Cell Concentrating, Chemical Separation, Diagnostics, Environmental Sample Preparation, and Blood Sample Processing. Its versatility makes it an essential tool in any laboratory setting.

Equipped with a backlit Liquid Crystal Display (LCD), this centrifuge provides clear visibility even in low-light conditions. Its user-friendly interface allows for easy navigation and quick adjustment of settings.

With ten acceleration and deceleration rates, the ability to select running time from 10 seconds to 99 hours and 59 minutes (or continuous operation), and a lid-locking system for added safety, the Ohaus Frontier 5000 Series Multi Pro offers unparalleled convenience and control. The CFC-free refrigeration system and sample temperature indication (for refrigerated models) ensure precise temperature control during centrifugation.

Experience the power of efficient centrifugation with the Ohaus Frontier 5000 Series Multi Pro. Whether you're conducting research, performing diagnostics, or preparing samples, this centrifuge delivers exceptional results every time.
Invest in reliability and accuracy with a product trusted by professionals worldwide.