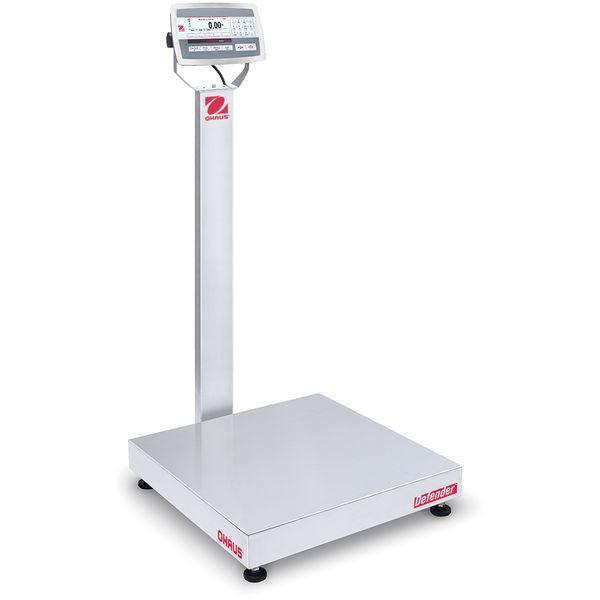 Ohaus Defender Multifunctional Bench Scales D52XW500RQV3, 1000 lbs x 0.2 lb
Original price
$2,831.00
-
Original price
$2,831.00
Introducing the Ohaus Defender Multifunctional Bench Scales D52XW500RQV3, the ultimate companion for all your weighing needs.
With a maximum capacity of 1000 lbs and a precision of 0.2 lb, these scales are designed to deliver accurate and reliable results every time.

The user-friendly design of the D52XW500RQV3 model makes it a breeze to operate. Equipped with an easy-to-use keypad and a large backlit display, you can navigate through the various functions with ease. The plain text on-screen prompts provide clear instructions, guiding you through the operation effortlessly.

Built to withstand the most demanding environments, these scales feature a durable construction. The stainless steel platform ensures longevity, while the sand-gray powder-coated steel frame and aluminum load cell add strength and stability. Plus, with its NTEP/Measurement Canada or OIML/EC type approvals (depending on your region), you can trust its accuracy and reliability.

The Ohaus Defender Multifunctional Bench Scales D52XW500RQV3 come loaded with features to enhance your weighing experience. It offers standard industrial modes for versatile use and supports a 50,000-item library with 1,000 user profiles for easy data management. With GMP/GLP capabilities and time/date functionality, you can easily trace your results for quality control.

Perfect for various applications, these scales excel in weighing, parts counting, percent weighing, check weighing, and dynamic weighing with a display hold feature. The backlit liquid crystal display (LCD) with 256 x 80 pixels ensures clear visibility even in low-light conditions.

For added convenience, these scales come with an internal power supply with a power cord included. They also have accessible access communication ports, including RS232 and Micro SD slot for seamless data transfer. Additionally, you can expand connectivity with accessories such as a second RS232/RS485/USB device, Ethernet and WiFi/Bluetooth, Discrete I/O, and Analog Output (sold separately).

With its user-configurable resolution, overload capacity protection, checkweighing symbols, menu lock switch, and multiple selectable operating languages, the Ohaus Defender Multifunctional Bench Scales D52XW500RQV3 offer unparalleled flexibility. Its design features like adjustable rubber feet, stability indicator, auto-off function, and brightness adjustment further enhance usability.

In conclusion, the Ohaus Defender Multifunctional Bench Scales D52XW500RQV3 is a reliable and versatile weighing solution that will exceed your expectations. Whether you need precise measurements in a laboratory setting or rugged durability in an industrial environment, these scales deliver unmatched performance.
Invest in the best and experience the difference with Ohaus.