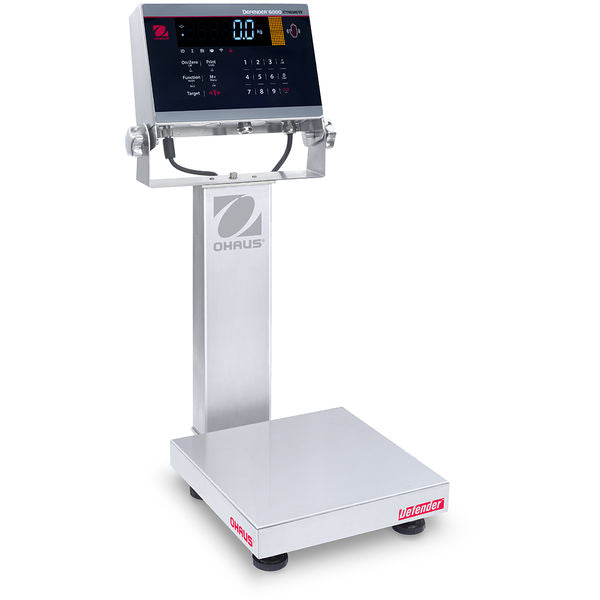 Ohaus Defender 6000 Washdown Bench Scale i-D61XWE5WQS6, Legal for Trade, 10 lb x 0.0005 lb
Original price
$1,983.00
-
Original price
$1,983.00
Introducing the Ohaus Defender 6000 Washdown Bench Scale, the ultimate solution for processing and packaging environments that demand durability and precision.
With its robust construction and advanced features, this scale is designed to withstand harsh cleaning routines while delivering accurate measurements.

The Defender 6000 is equipped with IP68 immersion and IP69K washdown protection, ensuring optimal performance even in the most demanding conditions. Its 316 stainless steel base and hermetically sealed load cell provide exceptional resistance to corrosion, making it the ideal choice for food, chemical processing, and packaging industries.

Certified by NSF and compliant with HACCP systems, this scale guarantees uncompromising hygiene standards. The 316 stainless steel base is easy to clean and maintain, allowing for a seamless integration into your production process.

Versatility is key with the Defender 6000. Equipped with a fast weight display and multiple software modes, it can fulfill a wide range of weighing needs in various industries. Whether you require weighing, counting with APW optimization, percent weighing, checkweighing, checkcounting, filling, or dynamic weighing/display hold, this scale has covered you.

The 6-digit, 7-segment white LED display boasts 20 mm high digits for clear visibility in any environment. Powered by a universal power supply (100-240 VAC / 50/60 Hz), this scale is ready to go wherever needed.

Communication is made easy with the Defender 6000. It features accessible communication ports, including an RS232 and USB host (included), a second RS232/RS485/USB device port, Ethernet and WiFi/Bluetooth capabilities (optional accessories required), as well as discrete I/O and analog output (sold separately). Real-time clock functionality enables GLP/GMP data output for seamless traceability.

With various design features, such as overload capacity protection, customizable print templates, menu and key lock options, stability indicators, and adjustable non-slip rubber feet, the Defender 6000 offers unrivaled convenience and ease of use.

In summary, the Ohaus Defender 6000 Washdown Bench Scale is the perfect choice for those seeking a reliable, durable, and versatile weighing solution. Whether you're in the food, chemical processing, or packaging industry, this scale will exceed your expectations.
Invest in the Defender 6000 for accurate measurements and peace of mind.