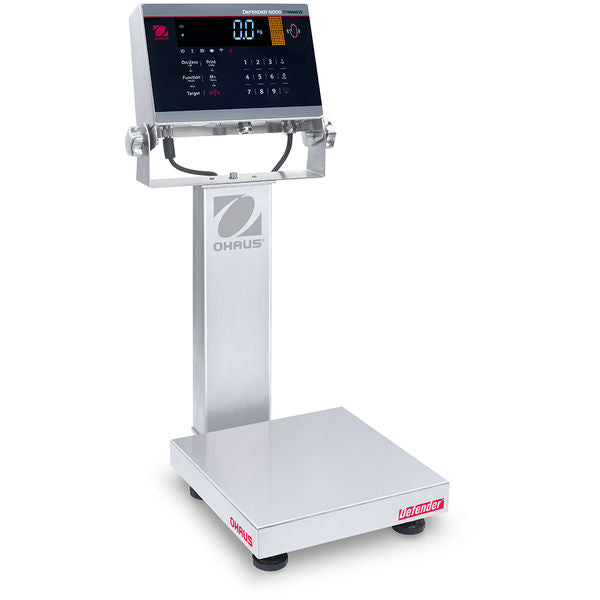 Ohaus Defender 6000 Washdown Bench Scale i-D61XWE12WQR6, Legal for Trade, 25 lb x 0.001 lb
Original price
$2,138.00
-
Original price
$2,138.00
Introducing the Ohaus Defender 6000 Washdown Bench Scale i-D61XWE12WQR6, Legal for Trade.
This scale powerhouse is designed to withstand the harshest cleaning processes in processing and packaging environments. With its IP68 immersion and IP69K washdown protection, a 316 stainless steel base, and a hermetically-sealed load cell, the Defender 6000 is built to last.

Certified by NSF, this durable scale supports HACCP systems and ensures optimal performance in food, chemical processing, and packaging industries. The 316 stainless steel base provides corrosion protection, guaranteeing longevity and reliability in challenging environments.

The versatility of the Defender 6000 is unmatched. It offers a fast-weight display and multiple software modes to meet the specific needs of food, chemical processing, and packaging applications. Whether you require weighing, counting with APW optimization, percent weighing, checkweighing, checkcounting, filling, or dynamic weighing/display hold, this scale has covered you.

Featuring a 6-digit, 7-segment white LED display with 20 mm high digits, the Defender 6000 ensures clear visibility in lighting conditions. Its operation is powered by a universal power supply (100-240 VAC / 50/60 Hz) and comes with easy access communication ports including RS232 and USB host. Additional communication options such as Ethernet and WiFi/Bluetooth are also available.

Constructed with a 316 stainless steel platform and frame, hermetically-sealed load cell, and IP68/IP69K 316 stainless steel housing indicator and mounting bracket, the Defender 6000 is built for durability. Its design features include 150% overload capacity protection, bar matrix check light, customizable print templates, menu, and key lock, selectable environmental and auto-print settings, stability indicator, overload/underload indicators, auto shut-off, auto tare, and adjustable non-slip rubber feet.

Whether you need a scale for your laboratory, industrial setting, or any other application that demands accuracy and reliability, the Ohaus Defender 6000 Washdown Bench Scale i-D61XWE12WQR6 is the perfect choice.
Experience the power of precision with this top-of-the-line scale.