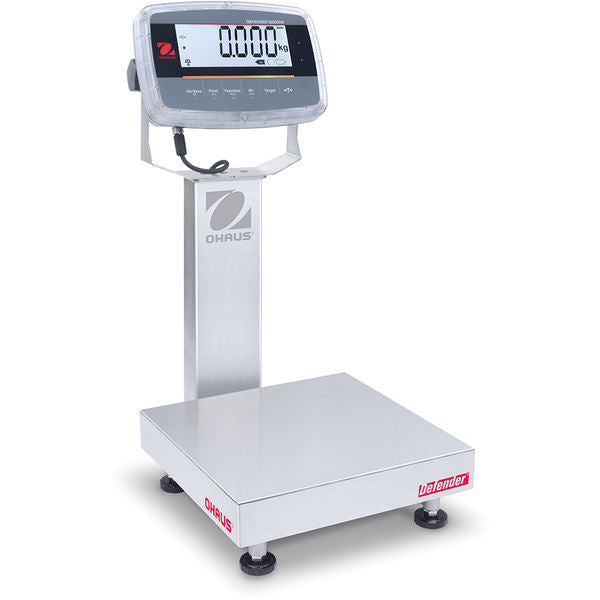 Ohaus Defender 6000 Washdown Bench Scale i-D61PW50WQR6, Legal for Trade, 100 lb x 0.005 lb
Original price
$1,884.00
-
Original price
$1,884.00
Introducing the Ohaus Defender 6000 Washdown Bench Scale i-D61PW50WQR6, a reliable and versatile scale designed to withstand the harshest cleaning environments.
With its robust features and exceptional performance, this scale is perfect for the food, chemical processing, and packaging industries.

One of the standout features of the Defender 6000 is its IP68 immersion and IP69K washdown protection. This means that it can be fully immersed in water without any damage and can withstand high-pressure washing. So, no matter how tough the cleaning process gets, this scale will continue to deliver accurate measurements.

Constructed with a 316 stainless steel base and a hermetically-sealed load cell, the Defender 6000 ensures durability and longevity. It has been NSF certified, providing corrosion protection in food processing areas and supporting HACCP systems.

With its fast-weight display and multiple software modes, this scale offers versatility to meet various needs. Whether you need to weigh items, perform counting tasks with APW optimization, calculate percentages, or perform checkweighing or check to count, the Defender 6000 has covered you.

The scale features a clear 6-digit LCD with a white backlight and 45mm high digits for easy readability. It operates on 6 D (LR20) batteries, which are included with your purchase. Additionally, it offers easy access to IR communication for data transfer and has GLP/GMP data output capabilities with a real-time clock.

Built for convenience, the Defender 6000 boasts a range of design features, including 150% overload capacity protection, a 3-color check light bar for quick visual reference, a menu and key lock for added security, a selectable environmental and Auto-print settings, stability indicator, overload/underload indicators, low battery indicator, auto shut-off function, auto tare functionality, and adjustable rubber feet for stability.

In summary, the Ohaus Defender 6000 Washdown Bench Scale i-D61PW50WQR6 is a robust and reliable scale that combines durability, versatility, and accuracy. Whether you're in the food, chemical processing, or packaging industry, this scale is your ideal companion.
Order yours today and experience the difference the Defender 6000 can make in your business.