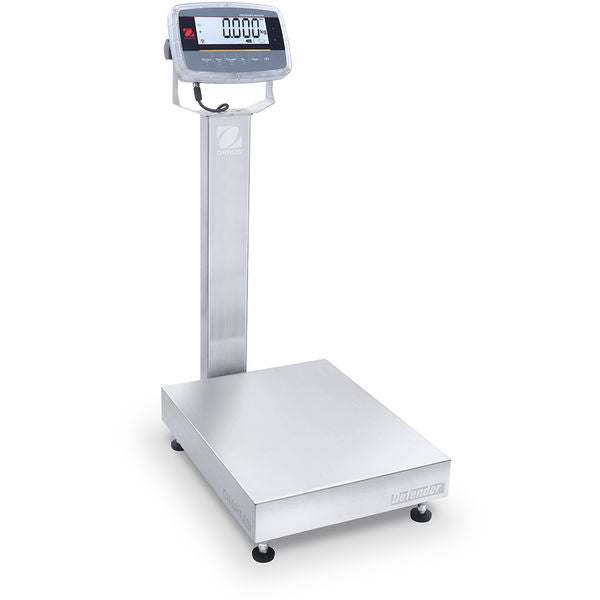 Ohaus Defender 6000 Washdown Bench Scale i-D61PW50K1L7, Legal for Trade, 100 lb x 0.01 lb
Original price
$2,734.00
-
Original price
$2,734.00
Introducing the Ohaus Defender 6000 Washdown Bench Scale i-D61PW50K1L7, a powerhouse of durability and versatility.
This scale is designed to withstand the harshest cleaning processes in processing and packaging environments, making it an ideal choice for industries that demand precision and reliability.

With its IP68 immersion and IP69K washdown protection, the Defender 6000 is built to resist water and dust intrusion, ensuring accurate measurements even in challenging conditions. The 316 stainless steel base and hermetically sealed load cell further enhance its durability, making it a perfect fit for food, chemical processing, and packaging applications.

What sets the Defender 6000 apart is its NSF certification, which supports HACCP systems. The 316 stainless steel base and sturdy indicator provide corrosion protection, meeting the highest hygiene standards required in the food industry. This scale is reliable for professionals who prioritize cleanliness and safety.

The versatility of the Defender 6000 is another reason why it stands out among its competitors. Equipped with a fast-weight display and multiple software modes, this scale can effortlessly meet the diverse needs of food, chemical processing, and packaging industries. Whether you need to weigh, count with APW optimization, perform percent weighing, checkweighing, checkcounting, or dynamic weighing/display hold, the Defender 6000 has covered you.

Featuring a 6-digit, 7-segment LCD with white backlight and 45 mm high digits, reading measurements has never been easier. The scale operates on 6 D (LR20) batteries that are included for your convenience.

In terms of construction, the Defender 6000 boasts a robust design. Its 316 stainless steel platform and frame ensure long-lasting performance, while the hermetically-sealed stainless steel load cell guarantees accurate readings. The IP68/IP69K food-grade polycarbonate housing indicator and 316 stainless steel mounting bracket add protection and durability.

Additional features of the Defender 6000 include 150% overload capacity protection, a 3-color check light bar, menu and key lock, selectable environmental and auto-print settings, stability indicator, overload/underload indicators, low battery indicator, auto shut-off, auto tare, and adjustable rubber feet. This scale is truly designed with the user's convenience and functionality in mind.

In conclusion, the Ohaus Defender 6000 Washdown Bench Scale i-D61PW50K1L7 is a reliable and versatile choice for professionals in the food, chemical processing, and packaging industries. With its durable construction, NSF certification, and advanced features, this scale is built to exceed expectations and deliver accurate measurements in any environment.
Choose the Defender 6000 and experience the perfect blend of durability and versatility.