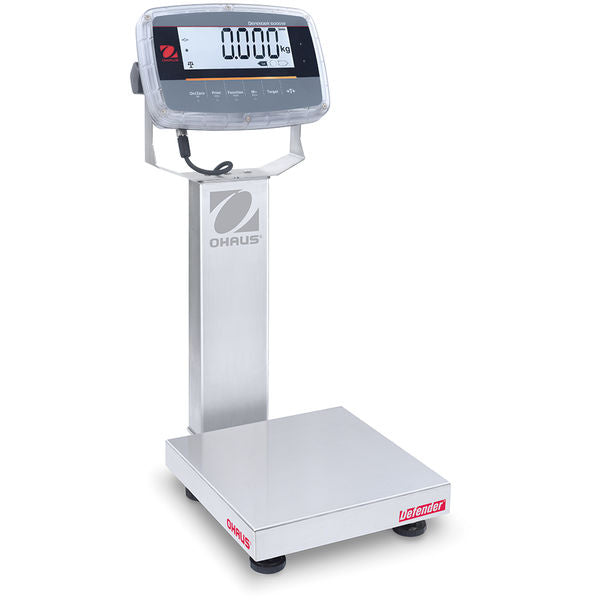 Ohaus Defender 6000 Washdown Bench Scale i-D61PW2WQS6, Legal for Trade, 5 lb x 0.0002 lb
Original price
$1,734.00
-
Original price
$1,734.00
Introducing the Ohaus Defender 6000 Washdown Bench Scale i-D61PW2WQS6, a true champion in weighing and counting.
This remarkable scale is not just your ordinary weighing device; it is a powerhouse designed to withstand the harshest cleaning environments in processing and packaging facilities. With its IP68 immersion and IP69K washdown protection, a 316 stainless steel base and a hermetically-sealed load cell, the Defender 6000 is built to endure.


One of the standout features of the Defender 6000 is its durability, which has earned it NSF certification. It complies with HACCP systems and boasts a 316 stainless steel base, providing unrivalled corrosion protection. Whether you're working in food, chemical processing, or packaging, this scale has got you covered.

Versatility is another key attribute of the Defender 6000. It offers fast-weight displays and multiple software modes to cater to the diverse needs of the food, chemical processing, and packaging industries. From weighing and counting with APW optimization to per cent weighing, checkweighing, check counting, and even dynamic weighing/display hold, this scale does it all.

Equipped with a 6-digit, 7-segment LCD featuring white backlighting and sizable 45mm high digits, the Defender 6000 ensures clear visibility in any lighting condition. Its operation is powered by six D (LR20) batteries, which are conveniently included in the package.

Communication is made easy with the optional IR communication kit, allowing for seamless data transfer. Furthermore, the scale provides GLP/GMP data output with a real-time clock for added convenience.

In terms of construction, the Defender 6000 boasts a sturdy 316 stainless steel platform and frame, along with a hermetically-sealed stainless steel load cell. Its IP68/IP69K food-grade polycarbonate housing indicator and 316 stainless steel mounting bracket further enhance its robustness.

Designed with user-friendly features in mind, the Defender 6000 offers 150% overload capacity protection, a 3-color check light bar, menu and key lock, selectable environmental and auto-print settings, stability indicator, overload/underload indicators, low battery indicator, auto shut-off, auto tare, and adjustable rubber feet.

In summary, the Ohaus Defender 6000 Washdown Bench Scale i-D61PW2WQS6 is a top-of-the-line weighing solution that combines durability, versatility, and user-friendly features. Whether operating in the food, chemical processing, or packaging industry, this scale is your ultimate companion.
Don't compromise on quality; choose the Defender 6000 for accurate and efficient weighing.