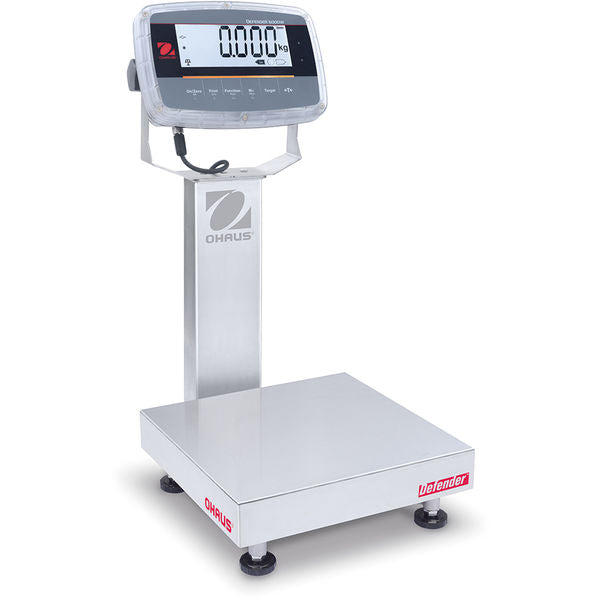 Ohaus Defender 6000 Washdown Bench Scale i-D61PW12WQR6, Legal for Trade, 25 lb x 0.001 lb
Original price
$1,884.00
-
Original price
$1,884.00
Introducing the Ohaus Defender 6000 Washdown Bench Scale i-D61PW12WQR6, Legal for Trade, with a capacity of 25 lb x 0.001 lb.
This exceptional scale is designed to withstand the harshest cleaning in processing and packaging environments, making it the ultimate choice for industries that demand durability and reliability.

With its IP68 immersion and IP69K washdown protection, along with a 316 stainless steel base and hermetically-sealed load cell, the Defender 6000 guarantees top-notch performance even in the most challenging conditions. This means you can count on its accuracy and longevity, ensuring consistent weighing results every time.

The Defender 6000 is NSF certified, demonstrating its commitment to supporting HACCP systems. Its robust construction includes a 316 stainless steel base and a sturdy indicator that protects against corrosion in the food, chemical processing, and packaging industries. This makes it an ideal choice for businesses that prioritize hygiene and cleanliness.

Versatility is another key feature of the Defender 6000. Equipped with a fast weight display and multiple software modes, this scale can meet various needs in food, chemical processing, and packaging applications. From weighing and counting to per cent weighing and checkweighing, this scale has got you covered.

The user-friendly design of the Defender 6000 is evident in its 6-digit, 7-segment LCD with white backlight, featuring easy-to-read 45mm high digits. Its operation is powered by six D (LR20) batteries, which are included for convenience.

Communication is made effortless with the easy-access IR communication kit (available as an accessory). Additionally, the scale offers GLP/GMP data output with a real-time clock, ensuring accurate record-keeping and traceability.

When it comes to construction, the Defender 6000 leaves no room for compromise. With a 316 stainless steel platform and frame, hermetically-sealed stainless steel load cell, and IP68/IP69K food-grade polycarbonate housing indicator, this scale is built to last. The adjustable rubber feet provide stability, and the 150% overload capacity protection ensures peace of mind during heavy-duty weighing tasks.

Other innovative features include a 3-color check light bar, menu and critical lock, selectable environmental and auto-print settings, stability indicator, overload/underload indicators, low battery indicator, auto shut-off, and auto tare. These features make the Defender 6000 a reliable and efficient weighing solution for your business.

Experience the freedom of accurate weighing with the Ohaus Defender 6000 Washdown Bench Scale i-D61PW12WQR6. Whether in a laboratory, industrial setting, or any other environment where precision matters, this portable scale will exceed your expectations.
Order yours today and take your weighing capabilities to new heights with Liberty Scales.