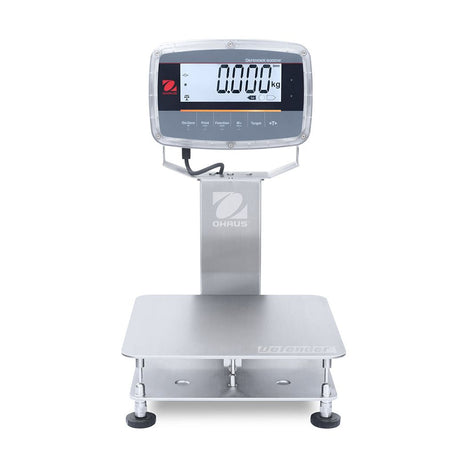 Ohaus Defender 6000 Washdown Bench Scale i-D61PW12K1R6, Legal for Trade, 25 lb x 0.002 lb
Original price
$2,129.00
-
Original price
$2,129.00
Introducing the Ohaus Defender 6000 Washdown Bench Scale i-D61PW12K1R6, Legal for Trade, 25 lb x 0.002 lb - the ultimate solution for accurate weighing in demanding processing and packaging environments.
With its exceptional features and robust construction, this scale is designed to withstand harsh cleaning conditions while delivering precise measurements.

Built with IP68 immersion and IP69K washdown protection, the Defender 6000 can handle any rigorous cleaning routine. Its 316 stainless steel base and hermetically sealed load cell ensure durability and longevity, making it ideal for use in food, chemical processing, and packaging industries.

Not only is the Defender 6000 tough, but it's also NSF certified, meeting the highest hygiene standards. The 316 stainless steel base and sturdy indicator provide corrosion protection, supporting HACCP systems and ensuring food safety.

Versatility is a crucial feature of the Defender 6000. It offers fast weight display and multiple software modes to cater to various needs in the food, chemical processing, and packaging industries. Whether you require weighing, counting with APW optimization, percent weighing, checkweighing, checkcounting, or dynamic weighing/display hold, this scale has covered you.

The 6-digit, 7-segment LCD display with a white backlight ensures clear visibility of measurements. With high digits measuring 45 mm in height, readings are easily legible from a distance.

For convenience and portability, the Defender 6000 operates on six D (LR20) batteries included with your purchase. Additionally, it offers easy access to IR communication kit compatibility for seamless data transfer. The scale also features GLP/GMP data output with a real-time clock for precise record-keeping.

With its sturdy construction, including a 316 stainless steel platform and frame, hermetically-sealed stainless steel load cell, IP68/IP69K food-grade polycarbonate housing indicator, and 316 stainless steel mounting bracket, the Defender 6000 is designed to withstand harsh conditions and deliver accurate results every time.

Other design features include 150% overload capacity protection, a 3-color check light bar, menu and critical lock, selectable environmental and auto-print settings, stability indicator, overload/underload indicators, low battery indicator, auto shut-off, auto tare, and adjustable rubber feet.

Choose the Ohaus Defender 6000 Washdown Bench Scale i-D61PW12K1R6 for reliable and precise weighing in even the harshest environments. Whether you're in the food, chemical processing, or packaging industry, this scale is your ideal companion.
Order yours today and experience unparalleled performance.